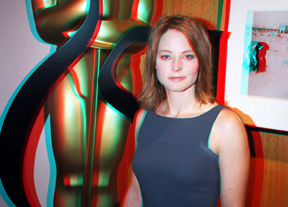 Next Monday, the Academy of Motion Pictures Theater in Los Angeles will be showing some never before seen 3-D Images of Oscar Winning People Projected along with the 2002 Academy Award winning Best Picture "Chicago". The 3-D is just a short "surprise" part of the evening, but part of what will make the whole evening quite unusual.
Here are the details:
Date: Monday, December 8, 2003 (ONE NIGHT ONLY!!!)
Time: 7:30 PM (arrive at least by 7.00, or 6:15 if you want to see the excellent pre-show)
Place: Academy of Motion Picture Arts & Sciences, 8949 Wilshire Blvd., Beverly Hills
Ticket Price: $5.00
Background Details:
On May 13, 2002 the Academy began a 75 film series called "Facets of the Diamond" in honor of the 75th anniversary of the Academy Awards. Every Monday night for the past 75 weeks they have been showing the AcademyAward winning Best Picture winners, in chronological order, from 1927 to 2002. December 8th, 2003 is the last film in the series.
In addition to showing the Best Picture, they have also been showing the Best Animated short subject, and, before the film begins, selections from the Academy Awards broadcast for that year (or stills, newsreels and other archive materials for the earlier years). Each week they have also invited guests, such as the actors, directors, producers and other people who have worked on each film.
The Program Coordinator, Randy Haberkamp, happens to be a 3-D fan, and, beginning with the 1939 film "Gone With the Wind", Reel 3-D Enterprises' David Starkman got permission to photograph the special invited guests in 3-D, alongside the Academy's official photographer.
Randy thought it would be great to wrap up the series with a 3-D "slide show" with the 3-D pictures of all of the invited celebrity guests who have visited this series.
This posed a technical challenge, as the Academy does not have a silver screen, and there was no time or budget to accommodate this requirement for just one show.
The answer was to digitize the images, convert them to color anaglyphs, and to project them using the Academy's Theater Size Digital projector. Ray Zone did the conversions, and Academy Information Support specialist Brett Davidson put Ray's conversions into a computerized Power Point program for digital projection. The final test of this was just done on Monday, Dec. 1, 2003 at which time Randy enthusiastically approved the "show" for projection next week.