Spot-5 has entered the final stretch before launch, planned for
mid-April. By the end of January, Astrium has delivered the satellite
to CNES, and after having been packed in its transport container, it
will be leaving for Kourou aboard a Beluga airfreighter. It will be
the first time an Airbus cargo plane transports a satellite from
France to French Guiana.

According to Michel Bouffard, Director of Earth Observation and
Science Programmes at Astrium Toulouse, the users of French satellite
imagery have never been so impatient before the launch of a Spot
satellite. "There's nothing comparable in the world, Spot-5 is unique
because this mission has been conceived to reply fully to the end
users requirements."

Continuity and improved performances

In June, after in-orbit acceptance, Spot-5 will be ensuring not only a
continuity of service but will be bringing new possibilities and
increased capacities compared to Spot-4 which was launched in 1998.
The new satellite is a key element in Spot Image's new commercial
strategy.

The most impressive instruments are the HRG (High Resolution
Geometric) telescopes. Covered with gold-coloured thermal insulation,
these two cameras sit majestically at the top of the spacecraft. They
will be providing pictures of the Earth which will be two to four
times sharper than Spot-4: a 10 meter resolution in colour, and 2.5 m
to 5 m in black and white, whilst still retaining the wide 60 km view.

By pivoting their mirrors, these telescopes will be able to look to
each side, targeting areas 450 km from the satellite's ground track.
"Our compromise between resolution and swath is unique and corresponds
well to the majority of satellite imagery applications," explained
Benoit Boissin, Spot-5 Project Manager at CNES.

Stereo views in one pass

More modest in size at the base of the HRG, Spot-5's principal
innovation is the instrument HRS (High Resolution Stereoscopic). Its
two fixed-angle cameras will in turn be looking 20° forwards, then 90
seconds later, 20° towards the rear, obtaining in one pass a
stereoscopic view of the same area.

At present, stereo views are obtained on two different passes with
varying viewing angles: between two passes ground conditions
(lighting, weather…) may have changed, factors which complicate the
production of finished products. Obtaining instantaneous stereo views
is thus an undeniable advantage.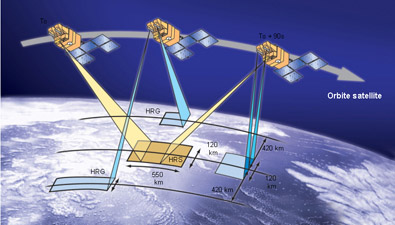 This imagery data will be used for 3D views and in particular
numerical models of terrain (MNT) with a 10 m precision. These are
used in a wide range of fields – in cartography, for civil and
military aeronautical databases, or for the deployment of cellular
telephone networks.

Each stereo view will be able to cover a wide area, up to 600 km long
and 120 km wide. The HRS instrument will thus be able to acquire
126 000 km2 of data every day, 6-10 million km2 in a year. Over 5
years - the satellite's minimum life duration - SPOT-5 will be
harvesting 30-50 million km2, the equivalent of one third of the
planet's land surfaces!

Alongside the HRS is the larger Vegetation instrument, identical to
the one on Spot-4. With its 1 km resolution, its 2250 km swath will
supply views of our Earth on a continental scale. It will be detecting
small changes in vegetation.

More precise pictures

So much has changed since 1986 and the launch of the first Spot
satellite, still operational after 16 years in orbit! The last in this
generation of satellites will be able to take five pictures at once,
550 in a day. The localisation of these views will be even more
precise due to the presence on the satellite of another newcomer, a
star tracker. Together with the DORIS orbit determination system and
after ground processing, it will give a 350 m to 50 m precision for
HRG views, and even 20 m for HRS.

Another bonus of the Spot system is its responsiveness. The "revisit
frequency" for one satellite is normally 3 to 5 days, but the Spot
flotilla allows much better." When Etna erupted in July 2001, we
obtained 24 pictures in 21 days" says Philippe Delclaux, Director of
Operations and Production at Spot Image.

According to Philippe Goudy, deputy Director of Earth Observation
Programmes at CNES, Spot 5 will fit perfectly into today's information
society. "The mission will contribute to the prevention of major risks
and will have a central place in the GMS initiative. Spot-5 will help
plan land use in many countries, and its data will be given free to
civilian safety services around the world when there are disasters. We
cannot leave a monopoly of vision to others, I believe that it's a
question of sovereignty."

Four times as much data

In terms of data, this increased vision will have heavy consequences:
Spot-5 will be sending back to Earth between 4 and 16 times more than
its predecessors. One single image with a 2.5 m resolution covering
60 km2 represents 576 megaoctets, practically an entire CD-Rom! These
data will soon be joining – with delivery to users possible in less
than 24 hours – nearly 100 teraoctets of data already archived by Spot
Image.

And how much does all this cost? The question was inevitable. "The
total Spot-5 cost (not including the definition phase) will be 510
Million Euros" replies Benoit Boissin, "that's about 30 Million Euros
less than Spot-4." Spot-5's arrival, and in particular its HRS data,
allows Spot Image to forecast a yearly turnover (around 40 Million
Euros in 2001) that will double within 5 years.

In a few months, the satellite will be turning its cameras towards us.
Earth observation will pass to a new dimension, that of more acute
vision with a 3D bonus!