The quaint subgenre of 3-D cinema gets a dazzling dust-off with the third installment of Robert Rodriguez's terrific "Spy Kids" films, a bracing plunge into virtual reality that will introduce a new generation to the wonders of those magically goofy red-and-blue anaglyph glasses.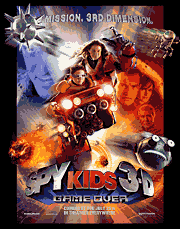 As with its two predecessors, "Spy Kids 3-D: Game Over" bears a wealth of imaginative riches and a signature mix of outre personalities and gadgets.
Still, fans of the first two films might find the human element somewhat lacking; though the gang's all back, most of the adult actors are onscreen only for cameos, including the toplined Antonio Banderas and Carla Gugino.
The film really belongs to 11-year-old Daryl Sabara as Juni, the youngest of the daring Cortez family, and mainly to the CG effects. That makes sense given that Rodriguez, who handles a multitude of technical and creative chores on his movies, conceived of the film less as a sequel than as a journey into three-dimensional filmmaking.
The first major U.S. theatrical release to use 3-D since 1991's "Freddy's Dead: The Final Nightmare," "Game Over" utilizes the lightweight, high-resolution cameras James Cameron and Pace Technologies developed to shoot his documentary "Ghosts of the Abyss."
Like the first two "Spy Kids" adventures, this one will appeal to children and adults alike and should, after strong play at the boxoffice that likely will top the second film's take, have a long 2-D life on video.
Joining the regulars this time around are Sylvester Stallone, Salma Hayek, George Clooney, Elijah Wood and a quartet of talented youngsters, with the entire cast's spirited work especially impressive considering that everybody acted in front of a green screen.
Explaining the 3-D experience to initiates in the audience is Alan Cumming, reprising his role as kids show personality/inventor Floop, in an opening sequence that makes wonderful use of layered effects via a pop-up book.
The main action finds Juni working as a PI -- complete with droll, noirish voice-over -- having left behind his work as a secret agent. But soon enough the OSS summons him back for a mission of supreme importance: retrieving his older sister, hacker par excellence Carmen (Alexa Vega), who is trapped in the ultimate video game, "Game Over."
The agency had sent Carmen to destroy the game, which is a vehicle for its creator, the Toymaker (Stallone), to take over the minds of kids everywhere.
Stallone has fun with the role of the evil genius, who debates his plan for world domination with three disparate aspects of himself -- one of whom has a blatantly false bald pate, a comical touch in light of the film's super-slick visuals.
To join him on the expedition, Juni chooses his paraplegic grandpa (Ricardo Montalban) for his upper-body strength and mental agility -- a nice lesson in open-mindedness that is reinforced later in the film without being heavy-handed or cloying.
Back at agency HQ, the Giggles (Mike Judge and a pigtailed Hayek) monitor the duo's progress through the game's five levels, while four beta testers (Ryan James Pinkston, Robert Vito, Bobby Edner and Courtney Jines) guide them through the futuristic cityscapes and abstract tableaux.
Among the challenges our heroes encounter are pogo-ing toads, monstrous iron men and various floating and flying objects that will have youngsters reaching up to grab them. Two especially effective set pieces are a breathtaking road race and a lava-surfing episode.
It isn't until an hour into the film that Juni reaches Carmen, and just when the rest of the gang's all here, whetting the appetite for ensemble high jinks, it's game over.
There's a refreshing message about revenge, relating to Grandfather's history with the Toymaker, and a nicely nontraditional salute to the importance of family -- but the latter begs the question: Where was everyone in this extended family for the last hour and a half?
Although the film's concision stands as sharp rebuke to some of this summer's more unwieldy actioners, it's a letdown that most of the wacky, colorful characters don't get to do much.
In tribute to two of the most appealing kid actors around, there are post-credits snippets of Vega and Sabara's screen tests for the first "Spy Kids," way back in the 20th century.
Miramax/Dimension Films, produced by Troublemaker Studios
CAST
Gregorio Cortez: Antonio Banderas; Ingrid Cortez: Carla Gugino; Carmen Cortez: Alexa Vega; Juni Cortez: Daryl Sabara; Grandfather: Ricardo Montalban; Toymaker: Sylvester Stallone; Donnagon Giggles: Mike Judge; Cesca Giggles: Salma Hayek; Gary Giggles: Matt O'Leary; Gerti Giggles: Emily Osment; Arnold: Ryan James Pinkston; Rez: Robert Vito; Francis: Bobby Edner; Demetra: Courtney Jines.
CREDITS
Director/screenwriter/editor/director of photography/production designer: Robert Rodriguez; Producers: Elizabeth Avellan, Robert Rodriguez; Executive producers: Bob Weinstein, Harvey Weinstein; Music: Robert Rodriguez; Costume designer: Nina Proctor.