Last modified (16th update): September 26th, 9.30 am (local time, Cologne)

If you are planning to come to Photokina in Cologne, Germany, there are a couple of companies to visit. Below is a quick overview of some of the companies offering stereoscopic products and/or services.

Hall 2.1 / Booth D010: Minox


Minox shows their concept camera PX3D, claiming a "3D experience on regular screens (such as TV-sets, PC-monitors, Touchpads) without the need for 3D glasses". It actually uses four lenses (9 mm focal length), stacked vertically. Their "3D" effect is the option to animate the image, so you have a slight "look around" feeling. So it's not really stereo, although the camera could be turned sideways. According to Minox, the images are saved as separate jpg-files and not in MPO format. They therefore can be extracted separately.

The camera features 4x 5 megapixel sensors, and expected availability is summer 2011 at a price of approximately 500 Euro.

Hall 2.1 / Booth B011/C010: Carl Zeiss AG
The cinemizer multimedia video glasses offer an opportunity to view 3D films outside the movie theatres. The optics specialist will soon set another milestone in personal 3D viewing, with the cinemizer OLED. Thanks to modern OLED technology the image quality of the forthcoming model is very much improved. The new cinemizer will connect directly to PCs, laptops, netbooks, games consoles or Blu-ray players. This is in addition to the compatibility with smart phones and iPod/iPhones that the original cinemizer had. The cinemizer OLED displays an image equivalent to a 115 centimetre (diagonal) screen when viewed from two metres away.

If the laptop has a Blu-ray player built in, it will be possible to view the latest movies in 3D directly from the computer. Blu-ray offers superior image quality, and the cinemizer OLED is compatible with the over-and-under 3D format used by Blu-ray.

It's not just consumers that will find the cinemizer useful; in the B2B sector there are entirely new applications. For example, it will be easy for businesses to demonstrate 3D visualisation of complex products, for sales, engineering or architectural purposes.

The new cinemizer will not just have better image quality - sound quality is now much improved. Instead of using the previous on-ear speaker design, the new model now employs ear-canal headphones. This means sound doesn't leak out and disturb people close by, and you aren't interrupted by external noise. Price and launch date are not announced yet. For iPhone and iPod users, there will be an add-on kit. These include a connector and cradle for the devices.

Hall 3.1 / Booth B014: Universal Electronics Industries
The manufacturer of the Holga cameras offers two 120 roll film stereo cameras (one with lenses, the other one with pinholes), as well as the Holga 135TIM, with a small stereo base). Also available is a medium format slide viewer, and a foldable print viewer for medium format prints.

Hall 3.1 / Booth B029: Inon
Another company with underwater housings, partly made out of carbon fiber. They produce special models that can take two SONY HD video cameras synchronized through the LANC port.

Hall 3.1 / Booth B023: Fantasea Line Photo and Marketing
This company from Israel shows an underwater housing for the Fujifilm W3. All controls are accessible from outside, and the diving depth is up to 40 meters. At a price of approximately 500 Euro, this is a good option for all divers withing to shoot still images and HD video in 3D.

Hall 3.1 / Booth C036: DXG Technology Corp.
A Taiwanese company, DXG offers digital pocket video recorders in VGA resolution. Theiy have two models, the DVX 5D8 and the DVX 5D7. Both are priced at about $110 retail, but deature only a small stereo base. Both have 3.2" parallax barrier autostereoscopic displays.

Other, nop-operational design studies were also shown - and future models are expected to feature HD video. One of the design studies also had a fairly regular stereo base.

Hall 3.1 / Booth C077: Bosma Ind. Co., Ltd.
This company offers pretty much the same cameras as 3D Inlife - but under their own label.

Hall 3.1 / Booth C078: 3D Inlife (Shenzhen) Co., Ltd.
They still show the prototype of their large stereo camera SDC-810 - but claim that they have to re-design it with a smaller stereo base, due to the fact that the camera has zoom lenses. This sounds more like a bad excuse. Other (working) products include their picture frames, using parallax barriers. Their model SDP-918 viewer features a 7 inch display with a 800 x 480 pixel resolution. Their SDP-218T model does offer the same display, but also has a built-in DVB-T TV tuner.

Their compact camera, the SDC-820, can actually be evaluated. It has a 50 mm stereo base and 5 megapixel sensors. Lenses are f/3.2, 7.5 mm fix focus lenses. The autostereoscopic 2.8" parallax barrier display on the back (240 x 320 pixels) is rather coarse, so viewing the stereo images is not the greatest pleasure.

Hall 3.2 / Booth A011: Canon
Canon expands its revolutionary XF series of professional camcorders with the launch of the XF105 and XF100 – the smallest models ever to include the broadcast-quality MPEG-2 Full HD recording codec (50Mbps, 4:2:2).

The XF105 and XF100 are uniquely adaptable camcorders that offer maximum image quality from a small, lightweight body. Weighing just over 1kg, with advanced ergonomics designed to be comfortable for extended shooting, they benefit from a series of features adopted from the XF300-series. The much-praised design principles of the existing XF camcorders have also inspired the build of both models, with easy-to-reach, customisable controls, an outstanding LCD and XLR inputs built into the handle.

Perfect for users who need the flexibility to work in a range of field-based situations, the XF105 and XF100 fit into a new palm-sized category within Canon's XF family. Their compact design and advanced image quality makes them ideal for operators who may routinely switch between a variety of projects, such as weddings, corporate videos or documentaries. With their unrivalled range of features and easy-to-carry form factor, each provides the ability to move between assignments with one versatile camcorder.

Emphasising that the XF100-series offers exceptional performance to suit a range of applications, the XF105 offers enhanced integration into a studio set-up or multi-camera shoots thanks to an HD-SDI output, and shared Timecode input/output and Genlock input.

The XF100-series features one of the most advanced camera systems in its class, resulting in outstanding Full HD video quality. Both models feature a versatile new 10x zoom, 30.4mm wide-angle Canon HD Video Lens, with fast aperture performance up to f/1.8. An eight-blade metal diaphragm also provides a near-circular 'bokeh' effect, allowing operators to create more attractive background blur, while an increased number of moveable lens groups helps to reduce chromatic aberration and the overall size of the lens for added flexibility. A three-level digital tele-converter function can also be used to extend the lens' focal length by 1.5x, 3x or 6x – enabling users to get closer to the action if required.

The XF105 and XF100 also benefit from the advanced Canon Optical Image Stabilizer (OIS) system adopted for XF camcorders, offering three different modes of stabilisation – Standard, Dynamic and Powered.

A new 1/3-type, 2.07 Megapixel (MP) Canon CMOS sensor captures Full HD video at native 1920x1080 resolution. Adapted from the 3CMOS sensor system employed in XF300-series models, the XF100-series sensor is equipped with a Bayer pattern colour filter for high sensitivity and wide dynamic range. High-speed data readout technology also minimises rolling-shutter skew that can occur in conventional CMOS camcorders.

Canon also shows a dual projector polarized projection in excellent quality. It is worth seeing the movie of the Japanese Temple in Nikko, which was taken with a dual rig consisting of two of the XF105 cameras.

Hall 3.2 / Booth A015: Panasonic

As a result of research conducted in collaboration with Hollywood film studios over the years, Panasonic developed a professional 3D system camera and succeeded in bringing high-quality FULL HD 3D images to the home for viewing on 3D compatible TVs. The development of the world's first consumer 3D camcorder, the HDC-SDT750, which allows 3D images to be recorded at home by simply attaching a 3D conversion lens, is the next step. Incorporating Panasonic broadcast technology, this new 3MOS System camcorder lets users easily create their own 3D movies, something that only professional image producers were previously able to do. Combined with a VIERA 3DTV and Blu-ray DiscTM player/recorder, the SDT750 makes it possible to save precious memories of friends and family in vivid, lifelike images, to further expand the world of 3D enjoyment at home.

Even without the 3D conversion lens attached, there are many ways to enjoy the SDT750, which has evolved from previous Panasonic models that have gained extreme popularity all over the world. The 3MOS System with improved NR technologies records dimly lit images in greater beauty than ever before. Other sophisticated functions include 1080/50p recording for ultra-smooth images, iA mode in the new HYBRID O.I.S., and a wealth of manual functions controlled by a manual ring for easy, creative shooting.

The high-sensitivity 3MOS System provides an effective motion image pixel count of 7,590,000 pixels (2,530,000 pixels x 3). And even with this high pixel count, newly developed technology increases sensitivity, and further-evolved NR technology achieves bright images with minimal noise when shooting under low light conditions. This maximizes the 3MOS features of excellent color reproduction, high resolution and rich gradation, and lets the user capture vividly colored images in both bright and darkly lit places.

1,080/50p recording (Full-HD 1,920 x 1,080, 50 progressive recording) in the SDT750 produces richly expressive images, with none of the detail loss and flickering of conventional 1,080i (interlace) recording.

The iA (Intelligent Auto) function, which was highly popular on previous models, is also included, making it easy for anyone to take beautiful videos. And the SDT750 newly incorporates the HYBRID O.I.S. (Optical Image Stabilizer) system to bring clear, beautiful HD image quality to telephoto shots as well.

The user needs only to attach the 3D conversion lens that comes with the SDT750, the world's first consumer 3D camcorder, to record 3D images. Dynamic images like those that previously could only be seen at movie theaters using 3D content can now be experienced first hand. These powerful, true-to-life 3D images can now be created and viewed at home.

In natural vision, people see slightly different images with their right and left eyes. This difference is called visual disparity. The brain uses visual disparity to perceive spatial depth and the appearance of solidity. This visual disparity is artificially produced for 3D images so that the brain will interpret it as depth and solid-appearing objects. The SDT750 comes with a special 3D conversion lens that records right-eye and left-eye images simultaneously through its two lenses. The right and left images (each with 960 x 1080 pixels) that enter through the lenses are recorded using the side-by-side method. By attaching the 3D conversion lens to the SDT750 3MOS System camcorder, which incorporates a variety of Panasonic broadcast technologies, and connecting the SDT750 to a TV that is capable of side-by-side method 3D playback, vividly colorful 3D images can be viewed at home.


Another highlight is the new LUMIX G 12.5mm / F12 (H-FT012) 3D Lens. It realizes 3D shooting (35 mm camera equivalent: 65 mm) and features two optical systems installed within the diameter of the lens mount, creating stereo images from the left and right lenses, to be processed with a 3D image processing system. Despite its unique performance, the 3D lens keeps its size extremely compact thanks to Panasonic's advanced optical technologies and consideration of image processing system as well as structural design.

Shooting 3D content with an interchangeable lens system camera was possible by using panorama systems or a combination of two lenses and two CCDs, but these systems have drawbacks including the need for a dedicated 3D camera and the difficulties capturing moving objects. However, this new compact 3D-capable interchangeable lens allows easier handling and instant 3D shooting with cameras without a special structure for 3D shooting. It produces 3D images without distortion or time lag between left and right images, even for moving objects. The 3D images, even close-up shots, taken with this lens are easy on the eyes when viewed on 3D televisions.

The lens consists of 4 elements in 3 groups X 2 and can be attached to the camera by a Micro Four Thirds mount. The focal length is 12.5 mm (35 mm camera equivalent 65 mm) - and it has a Fixed diaphragm at f/12. At a 10 mm stereo base, the closest focusing distance is 0.60 m / 1.97 ft.

Also shown is the studio-quality 3D camera with a 65 mm stereo base. However, at approximately 20,000 Euro (including tax), this is definitely nothing for the amateur. Unfortunately, all Panasonic consumer products have a small stereo base, meaning that the best distance to use the leneses is around 80 cm. When talking to other experts in the field, it is no wonder that a new (joking) company name has been coined: "Pornosonic" ...

Hall 3.2 / Booth A015: Magix
On the Panasonic Booth, the company from Berlin demonstrates their video editing software "Video deluxe". It has special stereo features and allows various 3D input and output formats. It also accepts stereoscopic still images and can therefore be used to create 3D slide shows. It also features stereoscopic title creation and much more. A free 30 day evaluation version is available from the company website, http://www.magix.com

Hall 4.1 / Booth A020: Scanbull Software
This company has a huge stand, claiming they are the 3D experts. They offer step-motor driven turntables to shoot objects from various angles and to create 3D models which can then also be viewed in stereo.

At the rear corner, they have a huge projection area, with Infitec projection. Unfortunately, the projectors were so badly aligned (5 cm vertical error on the screen) that the viewing "pleasure" was fairly limited. When confronted with the problem, they said it's Infitec's fault - but they would make sure to fix the problem.

Hall 4.1 / Booth C046: 3DPowerstore GmbH
A 3D screen (polarized) is on display, to demonstrate their wide field of 3D services.

Hall 4.1 / Booth E021/E029: Pearl Agency
Pearl offers a simple 3D-kit, consisting of a slide-bar (with rack-and-pinion movement), a small tripod, anaglyph glasses with hard plastic frame and software ("3D-Easy Space") to create anaglyphs. At less than 30 Euro quite a good deal.

Hall 4.1 / Booth G004: Zoner software, a.s.
Their "Zoner PhotoStudio" features conversion of stereo pairs to anaglyph - OK, but not really that exciting. But since it is only one feature out of many, it's nice to see that they do at least spread the 3D gospel.

Hall 4.1 / Booth H008: Panorama Imaging Technologies
This company, headquartered in Israel, offers photo albums targeted at weddings etc. - one of their main fields of expertise is the conversion of 2D images to 3D. The results are then displayed as anaglyphs.

Their main target area are wedding photographers, who produce professional wedding albums, where one or two images are then converted to 3D for extra viewing pleasure.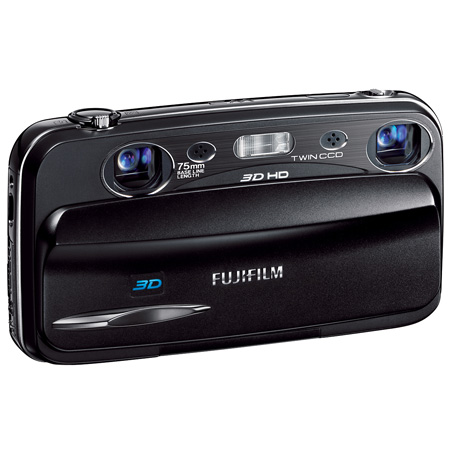 Hall 4.2 / Booth A 10/B 19: Fujifilm Corporation
The new camera model, FinePix REAL 3D W3, is shown. With the REAL 3D W3's HDMI 1.4 connection, 3D content from the W3 may be played back on any HDMI 1.4-compliant 3D television by simply connecting the appropriate HDMI to a mini-HDMI 1.4 cable, which is sold separately.

The W3 features high-definition 720P movie capture and playback, as well as a new 3½" high-resolution autostereoscopic widescreen display, perfect for viewing and reviewing your shots on the fly, with no glasses required.

In addition to its 3D capabilities, the W3 is also a very capable 2D camera. The W3's special Advanced 2D mode takes advantage of the W3's dual-CCD/dual-lens system. Each press of the shutter button will yield two images – choose from a wide-angle and zoom shot, or two different color modes, even two different ISO settings.
Dual 10M CCD system

Dual Fujinon 3X zoom lens system (35-105mm)

3.5" wide VGA high-resolution 460K 3D-LCD (3D viewing without glasses)

HDMI 1.4 (standard connection to 3D-TV)

3D high-definition movie (720p)

Captures images and movies in both 2D and 3D

Advanced 2D modes shoot two separate simultaneously 2D images – wide-angle/zoom, color modes and sensitivity

Advanced 3D modes – interval shutter and individual shutter

Automatic and manual parallax adjustment allows the user to fine tune the 3D effect

1600 ISO high sensitivity

Face detection (in 2D mode)

Dual-shot mode – take two pictures with one shutter press – one with flash and one without

Multi-frame playback with micro-thumbnail

Another highlight displayed by Fujifilm is their new 3D Print System DPR-1, which enables direct printing of high quality 3D images on lenticular sheets. It not only prints photos taken by the W1 or W3 digital cameras, but also offers other 3D print services at tourist spots, theme parks etc.

The printer uses dye-sublimation thermal printing and features direct printing of highly precise images on dedicated lenticular sheets (four sizes, including 6" x 9" [15.2 x 22.9 cm] and 5" x 7" [12.7 x 17.8 cm])

Hall 4.2 / Booth D021: Part Time Scientists (on the booth of Jos. Schneider)
A model of a lunar rover is shown, which is part of Google's Lunar X Prize. It features a stereo camera (with Jos. Schneider lenses), with a 100 mm stereo base. If they win the competition, they will be able to transmit high-resolution stereo footage from the surface of the moon.

Hall 5.1 / Booth A007: digi-dat / Werner Bloos
Werner Bloos presents his excellent camera rigs for still and video photography - both for linked digital still cameras (Canon, using Stereo Data Maker) and digital movie cameras. Also shown is a polarized 3D-TV set by LG and an underwater housing for 3D video shooting.

Hall 5.1 / Booth C012: Jobo
Jobo shows their new Digital Picture Frame, the PDP3D1. The 8"/20 cm display features a native 800 x 600 resolution, with very low resolution in 3D mode: Special software allows to convert MPO files (taken with the Fuji 3D camera) into the format used by the picture frame: the software takes the stereo pair and generates three "in-between" images, for a total of 5 perspectives. Since the barrier strip mask is at an angle (not vertical), the resolution per eye is therefore only 20 % (one fifth, due to the 5 perspectives) of the nominal display resolution - both horizontally and vertically (due to the angled barrier).

Hall 5.2 / Booth B010: Sony
First-ever 3D Cyber-shot™ cameras: for the first time ever, 3D Sweep Panorama lets you shoot incredible 3D images without needing a bulky, complex double-lens camera system.

Just press the shutter button: the advanced Exmor R™ CMOS Sensor inside the Cyber-shot™ WX5 and TX9 captures a high-speed burst of frames as you sweep the camera from side to side. Information from up to 100 images is automatically combined to create a stereoscopic pair of frames. You can enjoy the incredible results by connecting the camera by HDMI to your 3D-compatible TV.

Cyber-shot™ offers even more exciting 3D image possibilities. Also new this year, Sweep Multi Angle shoots a high-speed burst of fifteen frames, creating a '3D-style' image of your subject that can be viewed from different angles. After shooting, just tilt the Cyber-shot™ from side to side: sensors inside the camera detect your movements, scrolling through the sequence of multi-angle frames as you tilt and view the camera's LCD screen. Multi-angle views can also be viewed simultaneously on an ordinary 2D television as you tilt the camera.

Hall 5.2 / Booth C030: Aiptek International GmbH

The I2 HD Camcorder is on display, which takes videos in 1280 x 720 resulution. The stereo mode shoots in half the horizontal resolution per eye. The camera has a 2.4" autostereoscopic barrier-strip display.

Hall 5.2 / Booth E021: Tamrac
Tamrac offers a wireless system to synchronize flash units and various SLR cameras. The "MicroSync Digital" is a master-slave system, where one master can trigger as many as 255 slave systems. Various adapters ara available, so most Canon, Nikon and Pentax cameras can be used. This might be an interesting system for hyper stereos, where one camera triggers the second one (or even more, for shots to be used for lenticulars).

Hall 5.2 / Booth F008: Samsung Electronics
3D TV & Wireless Connectivity - a mono video camera transmits an image to a 3DTV, which in turn converts the 2D image to a 3D image. The result is quite horrible and not worthy of a major 3D player in the industry.

Hall 6.1 / Booth A020: DPS Digital Photo Systems BV
This Dutch Company shows an ID document service, provided by Safran/Morpho. With two Canon cameras, a stereo image is taken (approximate stereo base: 10 cm). With the help of special software, the eyes are located, and two intermediate images are being calculated. A laser writer then burns a black & white holographic image on the ID card.

Hall 6.1 / Booth A040: SPC International SRL
SPC from Italy shows software to generate anaglyph images for use in photo albums. The software, "Real Photo 3D" takes a stereo pair and converts it´to anaglyphs. At 70 EUR for the software, Stereo PhotoMaker will do the same for less. They also provide images for ChromaDepth glasses.

Hall 6.1 / Booth C027c: FS Distribution
This company distributes the Holga 120-3D Stereo camera in the USA, as well as the Holga 135TIM. The latter has two lenses, which can be individually activated - or the two can take an image at the same time. Its stereo base is a little less than 2 cm - and it has a shutter speed of 1/100 sec. at f/8, f/11 or f/22. It's currently available in three colors.

Hall 6.1 / Booth D010: Difox
Difox, a wholesale company for the German market, displays the Loreo Lens-in-a-Cap, the 3D 9005 Twin lens and the Loreo Lite folding viewers.

Hall 6.1 / Booth D038a: JS Digitech (Shanghai) Co., Ltd.
A large autostereoscopic screen is on display - which is intended to be used in advertising.

Hall 9.1 / Booth A031/A039: NeptuneLabs GmbH
This company provides dynamic imaging solutions for the web. Objects for on-line catalogs can be placed on a turntable and shot from various angles. The camera is then shifted by the desired stereo base, and a second round of images is being taken. The software then calculates an anaglyoh view of the object.

If you wish to get in touch with the Stereoscopy.com Webmaster at the trade-fair, send an e-Mail. Details are available at http://www.stereoscopy.com/contact