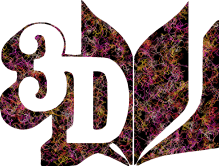 View-Master Illustrated Books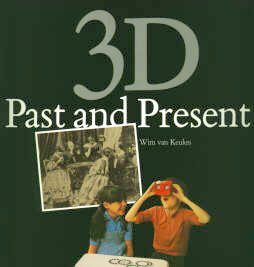 3-D Past and Present
by Wim van Keulen
Softcover book with 3 View-Master Reels
3-D Past and Present is an excellent full-color work that covers a lot of 3-D ground. Its many topics include 3-D basics, some history of 3-D and stereo cameras, uses of 3-D, holography, and a large section on the history and development of View-Master 3-D.
Three superb View-Master Reels are included that show a wide variety of subjects, including views reproduced from antique stereocards, views from nature and scientific applications, and some of the cartoon views produced by View-Master over the years.
This book is a good introduction to 3-D for all ages; its broad coverage contains something of interest for everyone and its clear explanations are easily understood even by those who have no experience with 3-D.

Price for U.S.A. and Canada: US$ 29.95, plus Shipping
Price for Europe and all other countries: Please write or E-Mail us.
---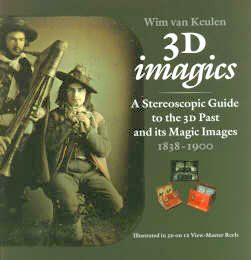 3-D Imagics
A Stereoscopic Guide to the 3-D Past and its Magic Images 1838-1900
by Wim van Keulen
Hardcover book with 12 View-Master Reels
This is one of the finest works on the history of 3-D and the images created by past photographers. Wim van Keulen discusses in detail the processes developed to create and print 3-D cards as well as the many devices used to view them during the "Golden Age of 3-D", from 1838 to 1900.
Although the book itself is beautifully illustrated, the pièce de résistance is the collection of 12 View-Master Reels containing 84 carefully selected and painstakingly reproduced stereo views created by stereographers of that era as stereocards. The subjects include Stereocards from England, 19th Century Children, Tissue Cards, Stereocards from the European Continent, The American 3-D Scene, and many others. For the serious View-Master fan and anyone interested in the 3-D of this era, this book is a must!

---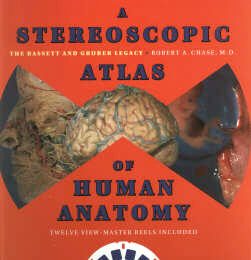 A Stereoscopic Atlas of Human Anatomy
The Bassett and Gruber Legacy
by Robert A. Chase, M.D.
Hardcover book with 12 View-Master Reels
Begun in 1948 and not completed until 1962, the original "Stereoscopic Atlas of Human Anatomy" consisted of 221 View-Master Reels with 1,547 color stereo views of dissections of every body region. Each stereo view was accompanied by a black and white labeled drawing and explanatory text, and the entire work was assembled into 12 printed volumes grouped into eight sections by body region. This massive project was the result of a cooperative effort between David L. Bassett, M.D., who performed the dissections and wrote the text, and William B. Gruber, the inventor of the View-Master system, who did the stereo photography.
The new "Stereoscopic Atlas of Human Anatomy" contains 83 of the original stereo views on 12 View-Master Reels and the labelled drawings that accompany them. The text and stereo image selection for this new book was done by Robert A. Chase, M.D., of the Anatomy Department of Stanford University (where Bassett and Gruber did all their work). These 83 views are taken from all the body regions, and even though they represent only about 5% of the images in the original Atlas, the book is still a very comprehensive medical text that would be of great value to doctors, medical students, medical researchers, and anyone else interested in human anatomy.

Price for U.S.A. and Canada: US$ 49.95, plus Shipping
Price for Europe and all other countries: Please write or E-Mail us.
---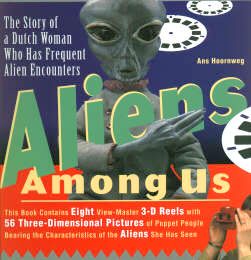 Aliens Among Us
The Story of a Dutch Woman Who Has Frequent Alien Encounters
by Ans Hoornweg
Hardcover book with 8 View-Master Reels
This book is the story of Ans Hoornweg from Holland, who came from a distant planet called Laborax. Since early childhood, she has been in contact with its inhabitants, the Lobobs, as well as with beings from other planets.
Her purpose here on Earth is to inform people about these extraterrestrial beings (all of whom radiate a universal power of love and possess healing powers) and their worlds, civilizations and intentions. To help accomplish this, she made puppets resembling them; the puppets have been photographed in 3-D and are shown on eight View-Master Reels.
For View-Master fans, collectors, and anyone else who is interested in extraterrestrials, Aliens Among Us is an ideal selection.
Price for U.S.A. and Canada: US$ 29.95, plus Shipping
Price for Europe and all other countries: Please write or E-Mail us.
---
---
3-D Book Productions
Brammershoopstraat 8
7858 TB Eeserveen
The Netherlands
Tel.: +31 (599) 287245
Fax: +31 (599) 287228
E-Mail: harry@uitgeverijakasha.nl
---
---
Last modified: January 22, 2019
---

Copyright © 1996 - by Stereoscopy.com and Alexander Klein. All rights reserved.