Good News for Devotees of Stereo Photography!
---
3D-Magazin features information about all aspects of three-dimensional imaging: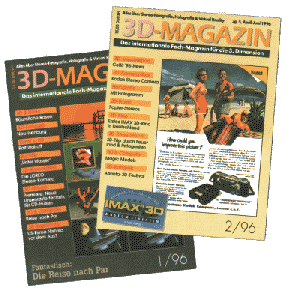 3D Camera Tests
3D Projector Tests
3D History
"3D Gallery" with Amazing 3D Photos
3D Computer Graphics
3D Calendar & Club News
How-to's on all Aspects of 3D Photography
Scientific Applications of 3D
Stereo Viewers
Holography
Book Reviews
News from Stereo Conventions
Virtual Reality
---
3D-Magazin was published four times per year in the German language and contains many color photos in excellent printing quality. Have a look at all issues of 3D-Magazin, including a table of contents!
The remaining copies can be ordered through H. Lindemanns Buchhandlung für Fotografie und Film, Stuttgart.
---

is published by
Bode Verlag GmbH
Oerter Pütt 28
D-45721 Haltern
Germany
Tel: +49 (2364) 16107
Fax: +49 (2364) 169273
E-Mail: geoagentur@aol.com
---
Last modified on May 23, 2005
---

Copyright © 1996 - by Stereoscopy.com and Alexander Klein. All rights reserved.