Henry Chung, Cinematographer
My Dream Camera
This is the camera I dream about: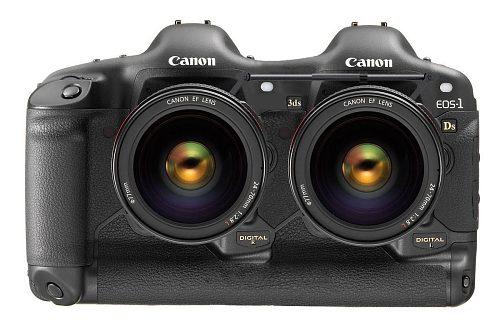 Canon EOS-1DS is definitely one of the best professional digital camera at this time in 2002-2003.
I have been using the Canon auto focus lenses since 1987 and now my shooting style actually very much intertwined with the EOS lenses, and I almost have a full set of two each from 20 to 200mm.
This camera if available will be the marriage of interchangeable auto focus lenses and high quality digital imaging. Perfect for realtime fast and efficient digital stereo image capture on location.
Expected stereo features:
Auto focus on both lenses synchronised.
Lenses interchangeable like RBT X-series method.
Synchronised apertures and shutters in the jointed bodies.
2 compact flash/micro drive slots for left and right imaging codes.
Dual stream data transfer to computer by firewire.
Synchronised hotshoe if needed.
Dual monitors with foldable glasses for instant stereo viewing.

Henry Chung
Cinematographer
60 King's Road,
23/F, Flat C,
North Point,
Hong Kong,
China.
Tel./Fax: 852-2856-1685
Pager: 852-7102-6872
Mobile: 852-9233-6788
E-Mail: magicmtp@netvigator.com
---
---
Last modified on January 22, 2003
---

Copyright © 1999- by Stereoscopy.com and Alexander Klein. All rights reserved.