---
HEAVY DUTY SLIDE BARS
---
Heavy Duty Twin Camera Slide Bars (18" -- 28")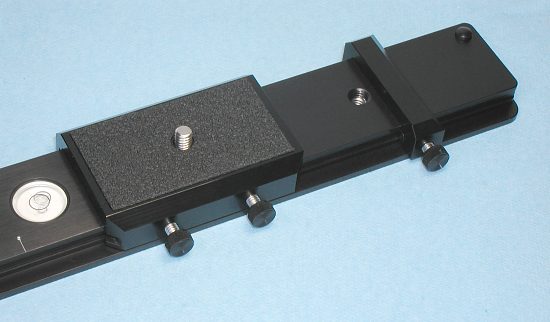 This series of Slide Bars were designed for use with most cameras and especially for larger SLR's and Medium Format cameras.
The Heavy Duty Twin Camera Slide Bars (HDSLB's) can be used with one or two Roller Blocks, for single still life or twin camera live action stereo photography. The Bar has Engraved Lines for the Block center alignment and lines 1¼" (31.75 mm) each side of the Block position, to be used as reference points to set the Adjustable Sliding Stops at your desired spacing. The Blocks and moveable Sliding Stops are removable for camera mounting. They are also equipped with soft tipped Thumb Screw Locks for steady action. A Bubble Level is inset into the Bar and the Bar is equipped with spring loaded Safety Button Stops on each end so that your camera won't accidentally roll off the Bar. The Bars also make a great focusing rail for macro photography.
The Heavy Duty Slide Bars are 18", 28" total travel between the Safety Button Stops.
The Roller Blocks are 2" Wide x 3" long or 1.5 " to the center line of your lens.

Features
Solid High Grade 6061 Aluminum Construction
Black Anodized Finish
HDSLB's are .5 in. thick and 2 in. wide at the base
All Bars are straight within .008 in. over the entire length
Multiple tapped holes ¼"-20 TPI are in the Bars for added support for tri- or monopods
All Bars have Large Bubble Levels
Roller Blocks are interchangeable and easily removable
Safety Button Stops
Heavy Walled Storage Container
Jaspers Vertical Bars adapt to all Roller Blocks
The 18" and 28" Bars can be linked together via an Adapter Block or Blocks to achieve any length desired
Made in the USA

Prices
18" Bar with two Roller Blocks & two Moveable Stops

$239.00
(plus S&H and applicable sales tax)

28" Bar with two Roller Blocks & two Moveable Stops

$279.00
(plus S&H and applicable sales tax)

Extra Parts Prices

18" Bar Only

$115

28" Bar Only

$155

All Bars come with End Safety Button Stops, Engraved Reference Lines, Bubble Levels

Roller Blocks Each

$50

Moveable Stops Pair (left & right)

$25

Adapter Block for Linking two 18" HD Bars, end to end and with 3/8-16 thread and ¼"-20 TPI Brass Insert for Tripod Mounting

$40
All Bars are packed and shipped in heavy duty, extra thick tubes which also serve as a storage case or traveling container .

Shipping & Handling charges quoted on request.
---
Jasper Engineering
Tim Chervenak
1240 A Pear Avenue
Mountain View, CA 94043
Phone +1 (650) 967-1578
E-Mail: Jasper31@att.net
---


Member of the National Stereoscopic Association and the Photographic Society of America
---
---
| | |
| --- | --- |
| | We now accept VISA, MasterCard, American Express, Discover and PayPal! |
---
Last modified on April 27, 2010
---

Copyright © 1998- by Stereoscopy.com and Alexander Klein. All rights reserved.