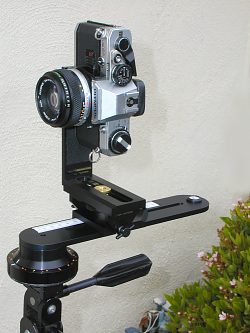 PANO HEAD 2
A TRIPOD ATTACHMENT FOR USE WITH MOST CAMERAS
The Original Pano Head has been redesigned and is now available. It has been designed for use with most cameras, including Point & Shoot, SLR's, Digital and Medium Format for VR and Stitch programs etc. and is easy to use.
The Pano-Head 2 is designed to do assemblage type panorama photography by taking consecutive photos in such a precision manner that the photos will match up, into one long panorama photo after processing and splicing.
The principle here is to pivot the camera on the rear focal node of the lens. This point would be the same as the focal length of the lens you are using. Because of the spherical nature of the camera lens there is optical distortion in each picture. By allowing the photos to overlap and cutting through both pictures simultaneously this distortion is canceled out and the photos will then match up end to end and assemble into one long panorama photo.
The Pano Head 2 is versatile and can be be used with a wide variety of cameras. Older cameras, cameras you may purchase in the future or you may want to lend it to a friend or colleague.
The Pano Head 2 is an upscale version of the original Pano Head which was introduced in 1985. It is larger in construction and has more added features.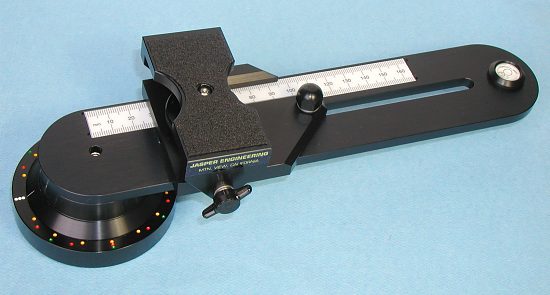 The Pano Head allows you to mount your camera in the Horizontal or Vertical position (Vertical Bracket included) and has a Tilt Bracket that allows you to adjust to the horizon and still "Pan Level". You always have to pan level, but you can tilt your camera up or down. A Bubble Level is on the Bar for easy leveling.
The Pano Head 2 is 3 inches wide at the Base and is 10.5 inches long.
The Sliding Mechanism which allows you to pivot your camera over the rear focal node adjusts from 5 mm to 160 mm.
The Vertical Mounting Bracket has a "left-right" movement, 86 mm, so you can put the centerline of your lens on the centerline of the Pano Head Sweep Bar.
A series of color coded detents(click stops) are on the Pano Head 2 Base Block for quick and easy spacing. They are as follows:
| | | |
| --- | --- | --- |
| Green Dots | 8 Spaces | 45 Degrees Each |
| Red Dots | 12 Spaces | 30 Degrees Each |
| Yellow Dots | 16 Spaces | 22.5 Degrees Each |