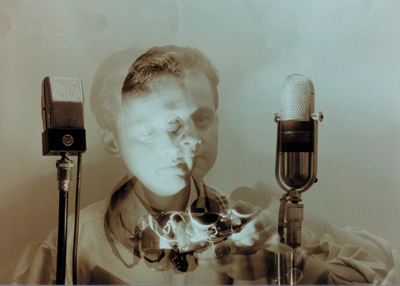 This is a FLAT 2-dimensional time lapse picture, come see 3D pictures at the exhibit!

the Gleason Public Library presents:


Jon Golden's
EXPLORATIONS OF THE THIRD DIMENSION
3-D stereoscopic images of the past and present

March 12 - May 3, 2003
Opening Reception:
Saturday, March 15, 2 - 4 P.M.

3D STEREO METAMORPHOSES
Projected 3-D image and sound presentation
3 P.M. March 15, Hollis room / 3rd floor, 3-D glasses provided:
Put on 3D glasses and experience images hovering in the room, flowing smoothly into each other, in beautiful and sometimes bizarre interactions. There is something of interest for everybody in this high-resolution three-dimensional experience, including pseudo-stereoscopic tricks and experiments, time-lapse animations and light drawing. 3D music and sound effects add to your complete immersion in to the 3D environment!

MORE 3D Projected Shows:
Limited seating available. Arrive early.

Thursday April 3 7:15p.m. sharp, Hollis Room, 3rd floor:
"Laissez Les Bon Temps Rouler" by Jan Burandt (NSA Regional Director)



Immerse yourself in the joie de vie of the Houston Artcar Parade. These 3D photos are set toe-tapping Zydeco & Texan tunes. Let the good times roll!
Thursday May 1 7:15p.m. sharp, Hollis Room, 3rd floor:
"the Landscape Show" from the "Stereo New England" 3D Club
Around the world and through the seasons of New England in 3D landscapes by local stereographers. This group show by the Boston area 3D photography club features images by twenty members and is set to music by local musicians and songwriters.
Gleason Public Library
22 Bedford Road (Route 225)
Carlisle, MA 01741
978-369-4898
Library Hours: Mon., Tues., Thurs., 10 a.m. - 9 p.m.
Wed., 1:00 p.m. - 9 p.m.
Fri., Sat., 10 a.m. - 5 p.m.