3-D IMAGES LTD
3-D Cameras
3-D Digital Stereo camera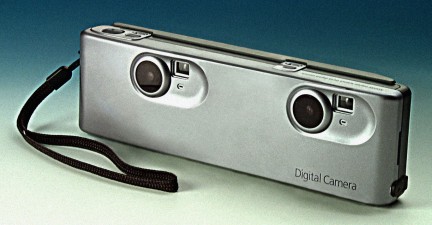 David Burder, Technical Director of 3-D Images Ltd., launched the company's first 3-D Digital Stereo camera, at Focus '97, the UK's primary Photographic Imaging trade show.
The camera is a true stereo camera, giving full synchronized, single button release, side by side stereo pairs of images, as in a traditional stereo camera.
The camera is a conversion be 3-D Images Ltd., and is based on the body & electronics of a pair of Kodak digital DC20 cameras. However, compared to the very popular 35 mm Kodak Stereo camera of the 1950's, this camera is filly automatic, time synchronized, and digital. It is also extremely compact & fits a jacket pocket.
3-D Images Ltd. have produced over 20 different 3-D camera designs over the past 15 years, mostly for their client's use, and almost all of which are based on conversions of conventionsl, one-eyed cameras.
Technical Director, David Burder, BSc, FRPS, FBIPP selected the Kodak DC20 camera as the basis for the conversion, as it offered the neatest design, with the most convenient internal layout, for conversion. As this is a 'cut & spliced' electronic and chassis conversion, it is not Kodak approved, and therefore 3-D Images Ltd. offer their own 12 months warranty!
The cameras are available from 3-D Images Ltd., at £995 plus VAT, and come complete with a lorgnette 3-D viewer, plus 50 pairs of anaglyph 3-D spectacles.


Specifications
Basis
'3-D Images Ltd.' own conversion from Kodak DC20
Inter-ocular
100 mm
Storage
2 x 1 MB internal
Number frames
16 pairs @ res 320 x 240, or 8 pairs @ 493 x 373 pixels
Colour
24 Bit, millions colours
Shutter Speeds
Auto: 1/30 - 1/4000 second
Aperture
Auto: f/4 - f/11
Focus free
0.5 m - Inf.
Outputs
Sequentially, via serial cable to modem or printer port
Compatible
PC > 3.1 and Max > 7.1
Size, approx.
1 x 2.5 x 8 inches
Weight, dry
200 grams
Accessories, included
Lorgnette 3-D print viewer, plus 50 pairs of 3-D anaglyph red/blue spectacles.
As the original Manufacturers Warranty is invalidated by the conversion, 3-D Images offers their own 12 months repair, refund or replace policy. This is not a Kodak approved conversion.
---
Lenticular Stereo camera


This 12 lens camera is ideal to take lenticular pictures. Further information is available from 3-D Images Ltd.
---
---
3-D IMAGES LTD
A David Burder Company
31 The Chine, Grange Park,
London, N21 2EA
Tel. +44 (20) 8364-0022 / 0104
Fax: +44 (20) 8364-1828
E-Mail: david@3Dimages.co.uk
---
Last modified: January 26, 2012
---

Copyright © 1997 - by Stereoscopy.com and Alexander Klein. All rights reserved.