This system involves a system of mirrors or prisms which fit in front of the normal lens of an SLR, and "split" the film into a left and right version. A model using mirrors operates like this: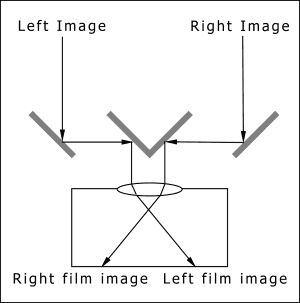 A similar arrangement is built into a viewer used to view either the slides or prints produced, or the images may be free-viewed, parallel viewing method).
Equipment available (new or used) using this principle includes the Ukrainian-made SKF-1 beamsplitter, the Franka beamsplitter, a 35mm attachment made by Pentax, and the Loreo camera.
---
---
---

---
---
Last modified on May 4, 2005
---

Copyright © 1999 - by Stereoscopy.com and Alexander Klein. All rights reserved.