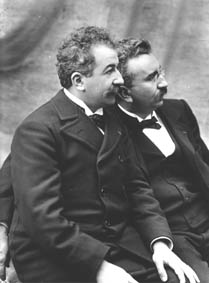 Auguste and Louis Lumière
(respectively b. Oct. 19, 1862, Besançon, Fr.--d. April 10, 1954, Lyon; b. Oct. 5, 1864, Besançon--d. June 6, 1948, Bandol), French inventors and pioneer manufacturers of photographic equipment who devised an early motion-picture camera and projector called the Cinématographe ("cinema" is derived from this name). Their film La Sortie des ouvriers de l'usine Lumière (1895; "Workers Leaving the Lumière Factory"), shown in Paris, is considered the first motion picture.
Sons of a painter turned photographer, the two boys displayed brilliance in science at school in Lyon, where their father had settled. Louis worked on the problem of commercially satisfactory development of film; at 18 he had succeeded so well that with his father's financial aid he opened a factory for producing photographic plates, which gained immediate success. By 1894 the Lumières were producing some 15,000,000 plates a year. That year the father, Antoine, was invited to a showing of Thomas Edison's Kinetoscope in Paris; his description of the peephole machine on his return to Lyon set Louis and Auguste to work on the problem of combining animation with projection. Louis found the solution, which was patented in 1895. At that time they attached less importance to this invention than to improvements they had made simultaneously in colour photography. But on Dec. 28, 1895, a showing at the Grand Café on the boulevard des Capucines in Paris brought wide public acclaim and the beginning of cinema history.
The Lumière apparatus consisted of a single camera used for both photographing and projecting at 16 frames per second. Their first films (they made more than 40 during 1896) recorded everyday French life--e.g., the arrival of a train, a game of cards, a toiling blacksmith, the feeding of a baby, soldiers marching, the activity of a city street. Others were early comedy shorts. The Lumières presented the first newsreel, a film of the French Photographic Society Conference, and the first documentaries, four films about the Lyon fire department. Beginning in 1896 they sent a trained crew of innovative cameraman-projectionists to cities throughout the world to show films and shoot new material.
In 1903, they shot the world's first 3D-Movie, "L'Arrivée du Train".