Sir Charles Wheatstone

Sir Charles Wheatstone was born on February 6th, 1802, in Gloucester, Gloucestershire, England and died on October 19th, 1875, in Paris, France.

English physicist who invented the Wheatstone bridge, a device that accurately measured electrical resistance and became widely used in laboratories. Other inventions include the concertina, a type of small accordion, and the stereoscope, a device for observing pictures in three dimensions

He was appointed professor of experimental philosophy at King's College, London, in 1834, the same year that he used a revolving mirror in an experiment to measure the speed of electricity in a conductor. The same revolving mirror, by his suggestion, was later used in measurements of the speed of light. Three years later, with Sir William Fothergill Cooke of England, he patented an early telegraph. In 1843 at the suggestion of the British mathematician Samuel Christie, he constructed the Wheatstone bridge and popularized its use. He was knighted in 1868.

In 1838 he described the theory of stereoscopic vision. His mirror stereoscopic viewer required that both pictures in the pair be reversed laterally. The advantage of the arrangement was that one could cope with large pictures, which is why the principle is still in use today when viewing X-Ray stereoscopic pictures and aerial photographs.

It comes as a surprise to many to learn that the idea of stereoscopy actually preceded photography. Though most associate Brewster with the invention, it was Sir Charles Wheatstone who, in June 1838, gave an address to the Royal Scottish Society of Arts on the phenomena of binocular vision. In describing the equipment, he said:

"I...propose that it be called a Stereoscope, to indicate its property of representing solid figures."

Wheatstone's actual stereoscope is preserved at the Science Museum in London. It was eleven years later before Sir David Brewster described a binocular camera, and the first stereoscopic photographs began to be produced.
Photos by Alexander Klein (Stereoscopy.com Webmaster)


Top: Lower Mall, Hammersmith, London
Right: 20 Conduit Road, London

Charles Wheatstone lived in both places before moving to Park Crescent.


Top: Park Crescent, Regent's Park, London
Right: Blue Plaque, 19 Park Crescent, London

Charles Wheatstone lived here in his last years.
A description by Alexander Klein (Stereoscopy.com Webmaster)
After reading Brian Bowers' biography of Sir Charles Wheatstone (see "Literature" section, below) I was curious to find out more about Charles Wheatstone. During a visits to London in 2001 and 2002, I visited the places where he lived and tried to find his grave.
It is well known that Charles Wheatstone was buried in Kensal Green Cemetery. However, finding his actual grave proved to be a somewhat more difficult task, as his grave is not listed in the official leaflet published by Kensal Green Cemetery. With much luck I tracked down an older gentleman, member of the "Friends of Kensal Green", who could point me in the right direction: "Wheatstone? I think his grave is close to the Brunel grave".
With this information, I finally found Wheatstone's grave, the gravestone obviously forgotten and covered with moss. Unfortunately, the inscriptions are not easy to read, even after careful cleaning of the stone.
For those wishing to visit Sir Charles Wheatstone's grave, this is how to find it easily: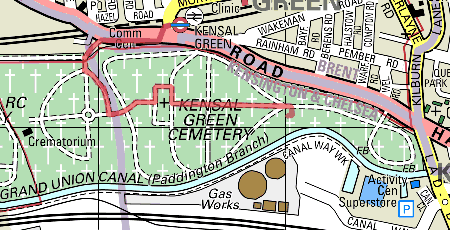 From Central London, take Bakerloo Line (Underground), Northbound, to Kensal Green Station. You may have to change trains at Queen's Park Station. After arriving at Kensal Green station, exit to the left and walk down to Harrow Road (see map on the left, the path is marked in red).
Turn right, cross Harrow Road at the traffic lights and continue to walk. After about 150 metres turn left, where you'll see the entrance to Kensal Green Cemetery.
Right after the entrance, you'll see a green wooden hut. They sell a small booklet about the Cemetery with a list of some of the important monuments. After the wooden hut, keep left ("Oxford Avenue"). Follow the road until you reach a junction. Turn left (signposted "Cemetery Chapel"). At the chapel, turn left and walk around it. On the other end of the chapel, follow the long straight gravel road downhill.
You'll be passing many unusual graves, such as Andrew Ducrow's grave adorned by two sphinxes. Just after the grave of Henry Adderley on the right (marked by two Egyptian-style columns) is a steel barrier of the road. Continue a few metres until the gravel road joins a paved road coming from the left.
| | |
| --- | --- |
| | Turn right approximately 5 metres later into a grass path. The grave on the left is marked by a thick pillar, topped by a cross. The name on the grave is "Saxon". Follow the grass path for about 15 metres and look to the right. |

Wheatstone's grave is in the 5th row, left behind the gravestone marked "Rebecca Bernard" and directly left of a tilted dark gravestone of Cornelius Ward, Ann Ward and Richard Tillstone.

It's a square stone, on the ground, with a roof-shaped top.

Photos of the gravestone can be seen below.

Top: Charles Wheatstone's gravestone after careful cleaning
Bottom left: detail of the gravestone, before cleaning (covered with moss)
Bottom right: computer-enhanced version of the large photo on top, showing the location of Charles Wheatstone's name on the gravestone.


Kensal Green Cemetery is open the following times:
1. April to 30. September
Weekdays 9.00 am to 6.00 pm
Sunday 10.00 am to 6.00 pm
Bank Holiday: 10.00 am to 1:30 pm
1. October to 31. March

Weekdays 9.00 am to 5.00 pm
Sunday 10.00 am to 5.00 pm
Bank Holiday: 10.00 am to 1:30 pm
There is no admittance to the Cemetery 30 minutes before closing times.
The best time to visit is on the 1st Sunday every month for the 2.00 PM tour of the Cemetery. It lasts approximately 90 minutes and includes a visit to the very interesting Catacomb.


Bowers, Brian: Sir Charles Wheatstone. Science Museum, London (1975).
An excellent Biography about Sir Charles Wheatstone. One chapter is devoted to the Stereoscope.
---
---
---

---
---
Last modified on May 4, 2005
---

Copyright © 1999 - by Stereoscopy.com and Alexander Klein. All rights reserved.