---
STEREO PHOTO SLIDE BARS
---
A Slide Bar enables you to take a pair of photos for stereo viewing, of still life scenes, with a single camera. If you are new to 3D-Photography, I recommend the well written and easy to understand book "Photographing in 3D" by David Burder FRPS & Pat Whitehouse FRPS. It explains all the basic 3D photo procedures and is beautifully illustrated with lots of colorful 3D photos. It is listed in the "Reel 3-D" catalog.

The Slide Bar is attached mounted on a tripod. The Roller Block is attached to your camera, then slipped onto the Bar. A pair of photos is taken, one on the left of center, one on the right. After processing, the slides are viewed using any of the hand-held viewers or projector set-ups that will take regular 2"x2" slides or hand mounted full-frame slides.

We offer Slide bars in two convenient lengths: 8" (20.32 cm) and 16" (40.64 cm). A special Single Vertical Mount is available to mount cameras vertically instead of horizontally.

Slide Bars for Medium Format, Large SLR's and Heavy Duty Work are Now available in the following lengths: 18" - 28" with Twin Roller Blocks, Bubble Levels and End Safety Stops.
The 8" (20.32 cm) Slide Bar is compact and fits easily into your camera bag. The roller block and bar are designed with color coded indent positioning, at center and three positions each side of center:

Color
Shift
Format
Approx.
Subject Distance
Yellow
¼" (6.35 mm) L & R
Macro
1 Foot (30 cm)
Green
¾" (19.05 mm) L & R
Close-Up
4 Feet (120 cm)
Red
1¼" (31.75 mm) L & R
Scenes-Normal
6 Ft. (180 cm) - Infinity
The shift distances are based on a "Rule of Thumb" of 30:1. Total left-right travel on the bar is 4½" (114.3 mm). The block is removable and has a thumb screw lock for easy action.



Features
Solid High Grade 6061 Aluminum Construction
Bubble Level
End Safety Stops
Black Anodized Finish
¼"-20 TPI Mounting Screws
Click Stop Positioning
Color Coded Scale
Roller Block Design
Block Lock
Instructions Included
Made in the USA
Left-Right Travel 4.25" (108 mm) Total
Dimensions: .75" x 2" x 8" (1.9 cm x 5.1 cm x 20.3 cm)

$84.00 (plus S&H and applicable sales tax)
---
12" Slide Bar



This Slide Bar has one Roller Block and a 300 mm Scale (ruler) inset into it for easy and very precise shifting in small or large increments. A Bubble Level is also inset into the Bar. The Roller Block has a Thumb Screw Lock for smooth action. Safety Button Stops are at each end of the Bar.


Features
Solid High Grade 6061 Aluminum Construction
Black Anodized Finish
300 mm Scale (Ruler)
Bubble Level
¼"-20 TPI Mounting Screws
Dimensions: .25" Thick x 1.50" Wide x 12" Long (0.64 cm x 3.8 cm x 30.5 cm)
Total Left-Right Travel 4.12" (10.5 cm) each side of center
End Button Stops - Safety Stops
Made in the USA
$94.00 (plus S&H and applicable sales tax)
---
16" Slide Bar



The 16" (40.64 cm) Slide Bar has been discontinued and was replaced by the 18" Heavy Duty Twin Camera Slide Bar.

---
Single Vertical Mount
If you want to take vertical format instead of the regular landscape format stereo photos, use this handy Single Vertical Mount to attach one or two cameras to the Slide Bars above.
Screw height from base is 5" (127 mm) Mount is 7.38" high x 1.5" wide x 2.38" at the base (187.50 mm x 38 mm x 60.50 mm)
NOTE: the photo below shows two views for clarity only.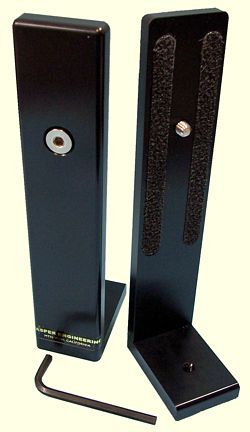 $47.50 (plus S&H and applicable sales tax)
Price for one Mount - photo above shows two for clarity only!
---
Jasper Engineering
Tim Chervenak
1240 A Pear Avenue
Mountain View, CA 94043
Phone +1 (650) 967-1578
E-Mail: Jasper31@att.net
---


Member of the National Stereoscopic Association and the Photographic Society of America
---
---
| | |
| --- | --- |
| | We now accept VISA, MasterCard, American Express, Discover and PayPal! |
---
Last modified on October 9, 2010
---

Copyright © 1998- by Stereoscopy.com and Alexander Klein. All rights reserved.