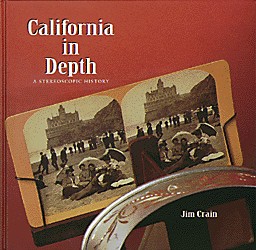 3-D Viewer Included!
"California in Depth: A Stereoscopic History" features 3-D images that cover Native Californians, the building of the Pacific Railroad, After the Gold Rush, the glories of the Yosemite Valley, the Modoc War, early San Francisco, Famous People, Front Page Events and more (how about a 12 foot crab, or Abe Lincoln!).

Whether you are a collector of vintage California stereoviews, or are just interested in a photographic history of California, this exquisite 10" x 10" 112 page hard cover book has something wonderful to offer you. It includes a fold-flat 3-D viewer and 170 vintage stereoviews that are beautifully printed in a 2½" x 5" easy-to-freeview size, with interesting captions for every view! This exciting interactive book is sure to please history and 3-D photography buffs alike.

Susan personally recommends this book for every 3-D enthusiasts library. Includes viewer. Originally sold for $24.95.