Incidents of The Rebellion: Civil War Photographs Seen as they were meant to be seen. IN 3-D
"The Civil War in Depth", published in 1997, was designed to stand on its own as a one volume, 3-D photographic history of the civil war. There were no plans for a sequel, even though some outstanding wartime stereo views were not included in that book. Following the book's publication, however, the author learned of the incredible, previously unknown collection of Robin Stanford. This led to the publication of "The Civil War in Depth, Volume 2", by Bob Zeller. Just published by Chronicle Books, it includes dramatic, unpublished Civil War photographs shown for the first time in print, in their original 3-D format.
Volume I was a great book, and we are pleased to say that Volume II is even better! This book features the finest views from the unmatched collection of Robin Stanford of Houston, Texas, who owns more than 1,500 Civil War stereo views. This private collection, untapped until now, is the finest assemblage of original 3-D Civil War stereo photographs known to exist.
For the first time, Civil War stereo views are published in color. The book has a full chapter of original wartime 3-D images that were carefully and exquisitely hand-tinted before they were sold. Other chapters include "The African-American Experience" and "Confederates," featuring images by Rebel photographers.
A chapter of "Discoveries" features remarkable 1860 images of a slave church outside Charleston, South Carolina; the rarest Gettysburg stereograph; the recently discovered stereo pair of an image of famed war photographer Mathew Brady at Gettysburg; and new finds showing the lost Cyclorama painting of Second Bull Run.
A chapter of Wilderness battlefield stereographs taken soon after the war ended features haunting images showing the tangled thickets of the battlefield along with the skeletal remains of soldiers who fell there, all in vivid 3-D.
No. 1062 . . The Civil War in Depth, Vol. II, incl. improved viewer
"The Civil War in Depth", by Bob Zeller, was the first all 3-D photographic civil war history book ever published. It was the first book to present the greatest photographs of the Civil War in the stereoscopic format in which they were taken and meant to be seen.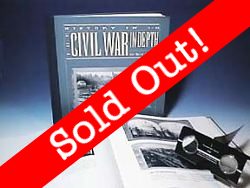 Volume I, published by Chronicle Books in 1997, shows over 100 of the war's best photos as stereo views. A viewer is enclosed inside the back cover for 3-D viewing. This Volume I is still available, and we now offer a special price for both volumes.
If you do not already own Volume I, we recommend buying both books while they are available ("California in Depth", published by Chronicle Books is now out-of-print) and enjoying them both. We personally find them outstanding and a great value. Both books are hard cover, each has 120 pages, and Volume II contains 20 color stereo images in addition to over 100 black and white stereo images. Each book comes with it's own viewer.