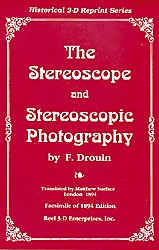 Exclusively Ours!
A Facsimile of the 1894 Edition
Second in the Reel 3-D Enterprises Historical 3-D Reprint Series
---
Many ideas and inventions in the field of three dimensional imaging seem new and revolutionary today. You will find in this intriguing volume a nineteenth century world of forgotten resources, uncovering the historical perspective of the evolution of stereo photography and 3-D viewing devices. Over 100 illustrations of unusual stereoscopes, stereo cameras, fantastic optical apparatus & numerous diagrams are included. Learn about the inventions of many early pioneers in the field of 3-D: D'Almeida working with anaglyphs in 1858, A. Stroh with eclipse stereoscopes from 1886, and the diverse and ingenious stereoscopes of Brewster, Claudet, Donnadieu, Duboscq, Wheatstone and many others of the nineteenth century. In this reprint of a rare book from more than 100 years ago, you will find that what is old is new again, and delight and learn from the legacy of our stereoscopic predecessors.

188 pages, soft cover.