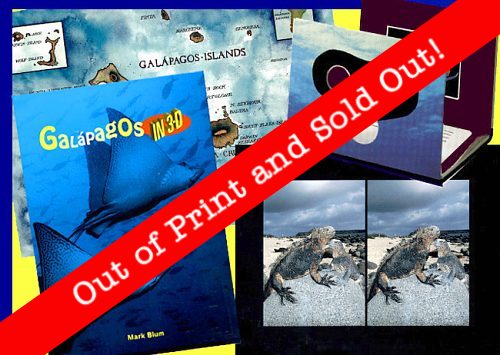 Save yourself thousands of dollars by buying this impressive book instead of flying to the islands off the coast of Ecuador. "When Charles Darwin visited the islands in 1835, he was awed by their primal volcanic landscape and amazed by the number and variety of native creatures." states Mark Blum in his preface to this book. Enjoy the experience in the comfort of your own living room with this book of 3-D images. There are 44 stunning stereo pairs, showing the wide variety of critters that inhabit the Galápagos, both above and under the water. To round out your 3-D tour there are also some beautiful scenic images of the island itself, showing the volcanic geology, the different vegetative zones, ocean cliffs, and other areas of scenic interest.
Underwater 3-D expert and author Mark Blum writes "The stereoscopic images included here are windows into this extraordinary world, offering the chance to explore its unique terrain and meet its unusual inhabitants up close in a way that standard, two-dimensional photographs can't match. None of the 3-D photographs in this book were created or enhanced with computers; all were taken with stereo cameras."
He goes on to state ". . . I've tried to include the creatures and terrain that you'd likely see on a typical visit to the islands as well as images, such as the marine life on the islands' volcanic underwater slopes, that few visitors are lucky enough to encounter. I've included the scientific name (in parentheses) and the local Spanish name (in italics) for each creature. I sincerely hope that you will share the sense of wonder and fascination I have felt in these enchanted islands."
Personally, for those of you who really know us, we know we're never going to get there, but the curiousity of these mysterious islands has enticed us for years. The flight is long, and the cost is great to actually go there. This book truly satisfied our need and interest, and we are deeply grateful. Each very dimensional image is exquisitely shot by underwater 3-D expert Mark Blum, and flawlessly printed in full-color side-by-side stereo pairs.
This well designed hard cover book incorporates a 3-D print viewer (with a pair of lenses each 1.5" in diameter) built-into the cover for easy viewing. If you don't own such a book, make "Galápagos in 3-D" the first on your list! You will see Hammerhead sharks, penguins, tortoises, sea lions, rays, birds, and eye-to-eye close-ups of a green Sea Turtle, a stone scorpionfish, seahorses and more!
As close as you will get to being there yourself, this book saves your wallet, your back, your feet and your time. The color printing is superb, and the images are printed against a black, instead of white, surrounding page, which removes any background distraction and emphasizes the 3-D window that you are looking into.
The amazing images are enhanced by a page of interesting and informative text on the page facing each image. In total there are 94 pages, 44 full color stereo images, and a LARGE lensed stereo viewer incorporated into the cover of the book. A great 3-D book, a terrific value, and a travel experience you can enjoy from the comfort of your favorite chair!
We recommend "Beneath the Sea in 3-D" as an alternative.