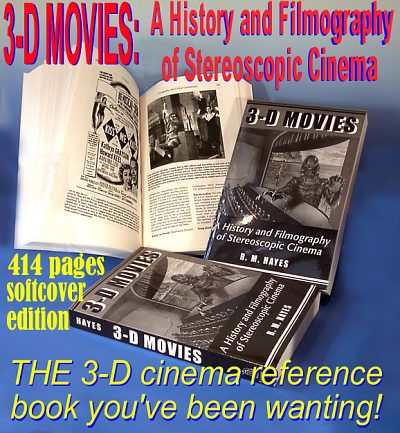 This amazing book presents a history of 3-D film from the earliest part of the twentieth century to 1989. This nearly comprehensive 414 page softcover book is a treasure chest of 3-D information for anyone interested in 3-D movies.
Full technical specifications are included, sometimes with patent drawings and equipment photos. An exhaustive filmography covers over 200 3-D films with extensive credits and details. Beginning with the Lumiere brothers "L'arivee du Train" in 1903, Plastigrams of the 1920's, Metroscopix "Third Dimensional Murder" by Pete Smith in 1941, UK Telecinema at the Festival of Britain, 1951, and American films from Bwana Devil, 1952, which began the 3-D boom of 1953, to the second 3-D boom in the 1980's.
Numerous behind-the-scenes photos are also included, along with ad illustrations. Photos of many 3-D camera systems (StereoVision, ArriVision, Deep Space Vision, SpaceVision, StereoScope, 3-D IMAX and more). Among the many 3-D movie system inventors are James Butterfield, Chris Condon, John Rupkalvis, Mortimer Marks, Col Robert V. Bernier.
A valuable reference addition for any 3-D movie enthusiasts reference library.