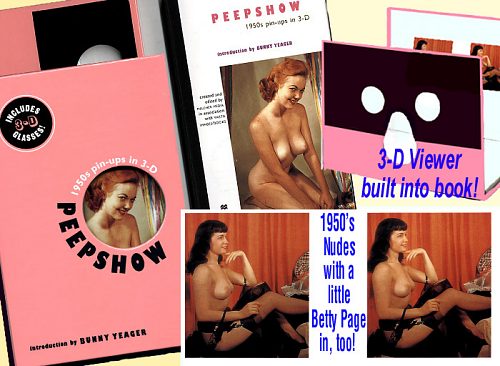 The early 1950's, the peak of the amateur stereo camera slide boom, were also years when glamorous, "figure study", demure, and sometimes kitschy, nude photography was also popular. It was quite natural that many amateur and professional photographers turned their Stereo Realist, Stereo Kodak and other stereo cameras, loaded with glorious Kodachrome, to this type of glamour and model photography.
Thanks to the recent popularity of books that print side-by-side stereo pairs to be viewed with a viewer incorporated into the cover, we are now fortunate to have another "in 3-D" book devoted to this subject.
Bunny Yeager was quite famous during this period: first because she was one of the best of the glamour photographers, and second because it was unusual at the time for a woman to be in this field. For this book Bunny has written an introduction titled "Glamour Photography in a Golden Age" -- and it is a fitting introduction to the lovely 3-D beauties in this book.
This was a time when nothing really explicit beyond bare breasts or a naked bottom could be shown, and these limitations add a wonderful innocence and charm to many of these photos. These limitations seemed to be a good match for 3-D photography also, as they called for artistic poses, carefully placed props, and interesting backgrounds to emphasize the "artiness" of the images.
The 47 3-D images in this book are wonderful dimensional windows into this more innocent time. They are beautifully printed in full color in a format which is easily viewed with the LARGE LENSED viewer that is incorporated into the cover of the book. Any collector of 3-D books or Nude photography will want this book for their collection!
As 3-D is our business, and we were a little disappointed that this 3-D publication was less than perfect, we feel it important to point out a few errors in the book:
1) The back cover says there are 48 3-D images, but we count 47. They must have accidentally included the one large title page (flat) picture when they counted 48.



2) Five of the 47 3-D images are printed in pseudostereo (the right image is on the left & the left image is on the right). These don't work with the built in viewer with this book, but will work for those who are able to "cross eye free-view".



3) One of the 47 3-D images is flat. (Either the left or right image was accidentally printed twice, instead of a separate left and right image.) Nobody's perfect, we know.



4) Considering the focal length of the lenses and the size of the pages, the images themselves could have been printed larger on each page. However, when looked at in the short focal length viewer of the book, the images are more than adequate in size to enjoy them. Just our opinion.