Books in 3-D and about 3-D:
Reel 3-D News
Bound Editions of Reel 3-D News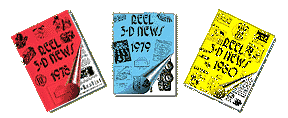 with Covers & Table of Contents

In 1976 Susan Pinsky and David Starkman bought a library box of 200 View-Master reels at a garage sale. A week later they bought another smaller box, which included a little promotional paper (from 1952) for the "new" View-Master Personal Stereo Camera. They decided that it would be great fun to be able to make their own View-Master reels, and decided to find one of these old cameras. In their search for information they bought old photo magazines from the late 1940's and early 1950's and learned about the stereo photography "boom" of that period.

In their quest to find and share information, they decided to start an illustrated newsletter called "Reel 3-D News", and published the first issue in January 1978. The newsletter quickly expanded beyond View-Master to incorporate all forms of 3-D photography, with an emphasis on the 3-D slide boom of the 1950's.

"Reel 3-D News" ceased publication at the end of it's third year, in 1980. (Reel 3-D Enterprises continued on, as as the supplier of 3-D products that you find on this web site!). Due to the continuous demand for historical and useful information, these Bound Edtion photocopy reprints have been in continuous publication since 1980.

Each Bound Edition includes covers and a Table of Contents. Combined they include 448 pages full of 3-D How-To Information, View-Master History, a 56 page Reference Guide to 3-D Equipment, 3-D Film Reviews, and lots of other stimulating and interesting 3-D information. They are available in a set of all three volumes together!

Reel 3-D News - 1978

How to Mount Your own 3-D Slides Issue
View-Master Personal Camera Report
Busch Verascope F40 Review/Report
Beam-splitter systems review
Trick stereo techniques
Stereographers Survey Results
Hyperstereo for View-Master & Realist
Star Studded 3-D from the 50's
3-D Tips, Ideas & Suggestions
Glossary of 3-D Terminology

148 Pages full of 3-D Information!
Reel 3-D News - 1979

Two-Part (56 page) REFERENCE GUIDE FOR STEREOGRAPHERS - pictures & specs on 3-D cameras, attachments, projectors, viewers & accessories.
Complete listing of 3-D movies to 1979
3-D Home Movie Making
Electronic Flash & your Stereo Camera
Tribute to Seton Rochwite: Inventor of the Stereo Realist Camera
Stereographers Survey Results
Listing of 3-D Clubs & Organizations

168 Pages full of 3-D Information!
Reel 3-D News - 1980

Yellow Pages of 3-D: Guide to Current 3-D Products & Services
"What is the Best?" in 3-D Equipment
View-Master Trouble Shooters Chart
Special 3-D Projectors Issue
View-Master Mark II Camera Report
"3-D Camera that Never Was" Review
Instant Stereo Camera Review
"Dial M for Murder" Issue
Experimenting with Super 8 3-D

132 Pages full of 3-D Information!
No. 1061 ... Bound Set of all 3 Volumes
---
---
Order by phone at (310) 837-2368, or by fax at (310) 558-1653
or write to:
Reel 3-D Enterprises, Inc.
P.O. Box 2368
Culver City, CA 90231
United States of America
E-Mail: Reel3D@aol.com
---
---
Last modified on April 2, 2004
---
Reel 3-D's web site is hosted by:

Copyright © 1998- by Stereoscopy.com and Alexander Klein. All rights reserved.