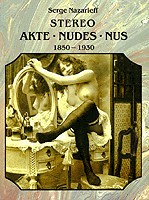 FOR ADULTS
ONLY!
Rare Erotic 3-D photographs you can view

in glorious 3-D!

(our Stock No. 2018 viewer is recommended, but not included.)

Stereoscopic photography was the ultimate form of voyeurism until the arrival of the cinema. This book provides an overview of the stereoscopic nude from its early beginnings to its final leap forward in popularity at the eve of WWII.

Beautifully printed, this 9" x 11¾" exquisitely printed volume features 160 pages containing more than 150 black 8 white and color (hand tinted) images made from original stereo daguerreotypes, ambrotypes, albumen prints, and salted paper prints, all reproduced as viewable stereo side-by-side pairs. Printed within this book are 197 rare stereo nude images.

WARNING! These are extremely erotic nude images, not for buyers under age 18. Some highly explicit X-rated views, but most are lovely female nudes.