Virtual Reality/Book and 3D Glasses
by H. P. Newquist, Gerald Marks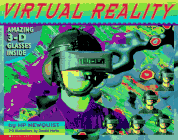 This book sheds some light on Virtual Reality. The descriptions are very simple and easy to understand, and several anaglyph 3D-images are included in this 91 page book. One pair of anaglyph 3D-glasses is enclosed inside a vinyl pouch in the back cover.