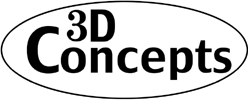 3D Instruction Manuals
---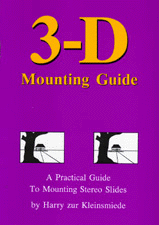 3D Mounting Guide: A Practical Guide to Mounting Stereo Slides
by Harry zur Kleinsmiede basic
This easy to understand guide illustrates the important aspects of proper mounting. Precise mounting allows for delightful and dramatic hand or projector viewing of 3D images. Alignment issues: horizontal, vertical and rotational adjustments are clearly explained in this illustrated 23 page guide. #MG...$10.95 plus $2.00 s&h.


---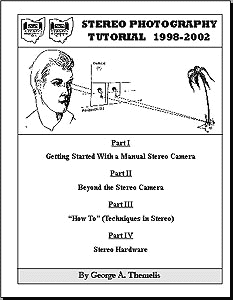 Stereo Photography Tutorial by Dr.T
by George Themelis aka "Dr.T" basic-intermediate
50 tutorials on stereo photography which clearly and concisely explain essential topics of stereography, arranged in five parts:
Part I: Getting Started With a Manual Stereo Camera
Part II: Beyond the Stereo Camera
Part III: "How To" (Techniques) in Stereo
Part IV: Stereo Hardware
Part V: Stereo Composition
#STUT...$19.50 plus $2.50 s&h.


---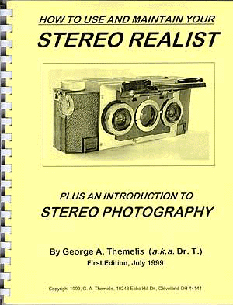 How to Use and Maintain Your Stereo Realist: Plus an Introduction to Stereo Photography
by George Themelis aka "Dr. T" basic-advanced
THE modern Realist camera guide. Includes instructions for use, cleaning, repairs and buying tips. Fundamental and advanced stereo photographic principles are also discussed. 127pages, 230 illustrations. #RM...$32.00 plus $2.50 s&h.


---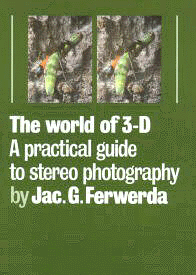 A Practical Guide to Stereo Photography
by Jacobus G. Ferwerda. intermediate-advanced
This book is a must have for the technically inclined. A classic textbook of 3D knowledge. Ferwerda explains stereoscopic theory in simple terms and gives detailed information on issues that often confuse experienced stereographers and confound beginners. #W3D...$49.95 plus $4.00 s&h.


---
der farbe leben
3D Abstract And Impressionist Paintings In Chromadepth, by Dorle Wolf.
This beautiful coffee table book is a pleasing alternative viewing experience from that of stereo photography. At ISU Lindau, we were so impressed with Dorle's gallery of Chromadepth paintings. Her work is beautifully displayed in this143 page book. Printed in the German, includes poems and writings by Dorle Wolf. Chromadepth glasses included.
#DW...$28.00 plus $2.00 s&h.

Contact us with questions. QnA@make3Dimages.com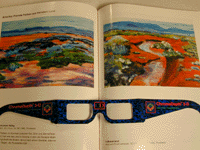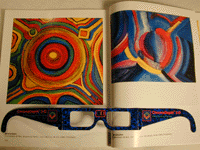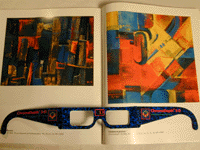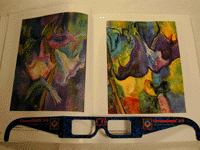 ---
---
3D Concepts
P.O. Box 715
Carlisle, MA 01741
United States of America
Phone: +1 (978) 371-5557
E-Mail: QnA@make3Dimages.com
We now accept the following Credit Cards for payment:

American Express
VISA
MasterCard
---
---
Last modified on October 23, 2006
Prices and availability subject to change without notice.
---

Please visit our web host Stereoscopy.com