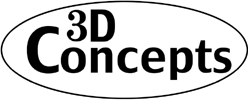 Low-Cost 3D Viewers
---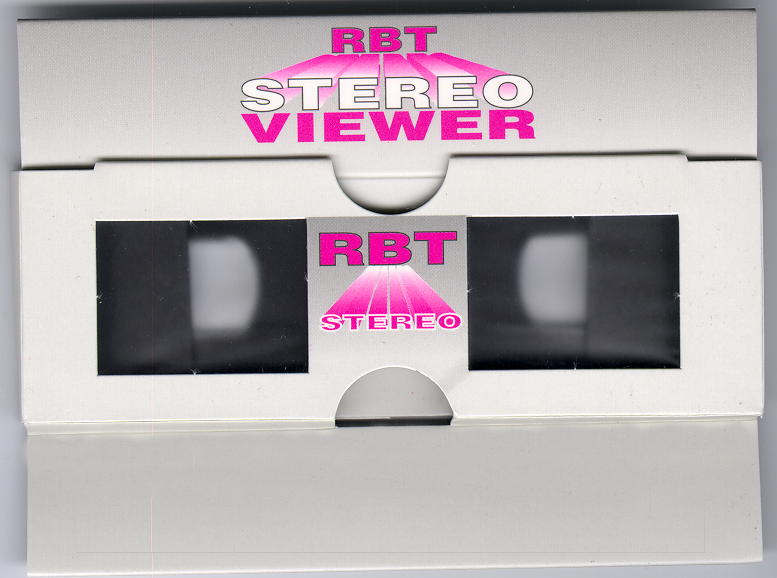 Collapsible Pocket STL Viewer
For 41x101mm slide viewing (images up to 23x33mm). RBT Collapsible Pocket STL Viewer Squeeze-to-focus. Folds to fit in your pocket. Large plastic lenses, coated cardboard won't generate dust. $10.00 + $2.00 S&H (larger quantity discounts available).
Contact us with questions.QnA@make3Dimages.com

---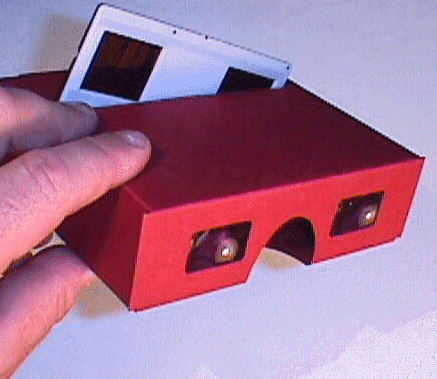 Top-Loading Box Viewer
This quick-assembly blue folding viewer is a light-weight, compact viewer for 41x101mm slides (images up to 23x33mm: RBT full-frame). Plastic convex lenses are F60mm x 30mm diameter. Size: 4-3/4in W x 1-1/2in H x 4-1/4in D. $15.00 + $2.00 S & H each, 2-4 $13.00 + $1.25 S & H each, 5-10 $12.00 + $.75 S & H each
CONTACT US FOR SPECIAL PRICING on larger quantities
Contact us with questions.QnA@make3Dimages.com

---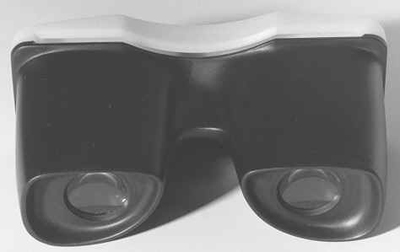 Full-Frame Plastic Viewer
Looks similar to the familiar "China" viewer, but with finer lenses and a wider focused coverage range for sharpness out to 23x33mm. Interior is opaque and painted non-reflective black, minimizing reflections and ambient light interference for a clear, sharp image. $19.75 each + $3.00 s&h. Quantity discounts: 2-4: $18.75 + $2.00 s&h each. 5+: $18.25 + $1.75 s&h each.
Contact us with questions.QnA@make3Dimages.com

---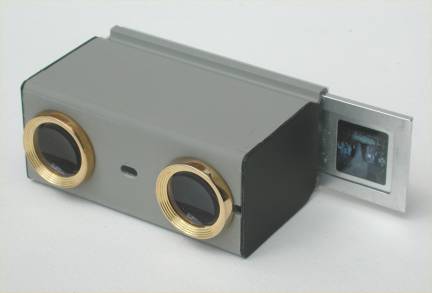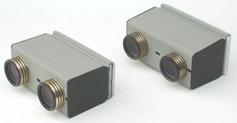 Channel-Viewer
This economical, compact, sturdy, light-weight side-loading viewer has the same x4.5 achromat lenses featured in our popular S.A.M. Great for travel or slipping in your camera bag. It also fit nicely into our 101ST slide storage cases, providing a portable, neat and easy way to store and showcase your viewer & stereo images.
$59.00 For 41 x 101mm stereo mount: RBT, and miscellaneous
$63.00 For 41 x 101mm stereo mount: Thicker vintage metal bound glassed
$64.00 For 50 x 50mm slide pairs
add $5.75 for shipping

Option of matte black lens ring: add $8.00
Optional Tripod mount, reinforced base with standard threaded tripod adaptor: add $10.00

Install the Channel Viewer in a wall, panel enclosure, or on a wall bracket. Please contact us for a quote and installation requirements.

Contact us with questions.QnA@make3Dimages.com

---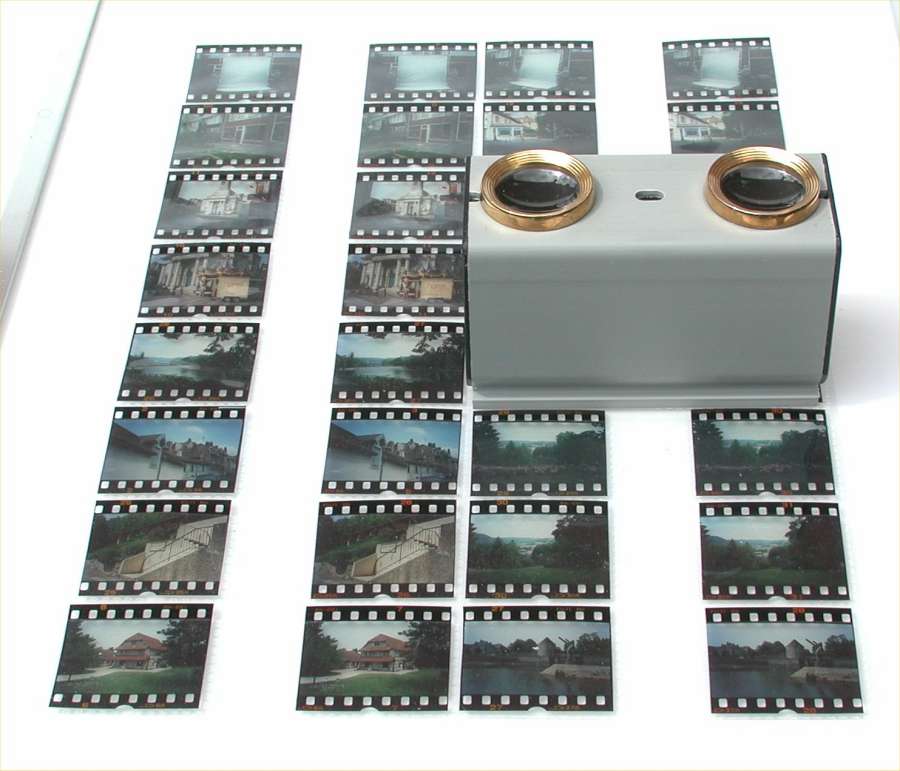 Channel Light Box Viewer
Like the Channel Viewer, but without a diffuser panel. Use it to review and scrutinize your stereo images for correct alignment on a light table, before you snap-down, or seal up your mounts.
$48.00 For all 41 x 101mm stereo mounts
$50.00 For 50 x 50mm slide pairs
add $5.75 for shipping

Contact us with questions.QnA@make3Dimages.com

---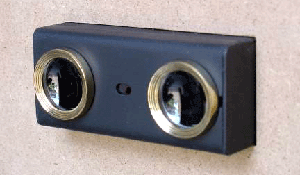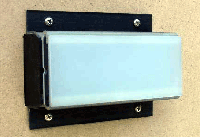 Channel Exhibit Viewer
Install the Channel Viewer in a wall, panel enclosure or on a wall bracket.

Please contact us for a quote and installation requirements.QnA@make3Dimages.com

---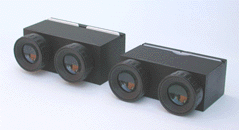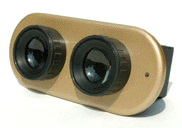 DPV - Dual Purpose Portable
DPV - Dual Purpose Portable STL for hand-held, and/or panel and enclosure mounting. Light and small for travel, easy to install for exhibits. Fl 54mm achromat- 27mm dia. , X4.6 achromat lenses, lock down fixed focus for exhibits, individually adjustable focus for.
DPV-STR for stereomounts to 23 x 33mm apertures $185.00 + s & h
DPV -M Exhibit mount panel finished in metalflake gold, red, copper, blue, or black satin finish $45.00ea
Contact us with questions.QnA@make3Dimages.com

---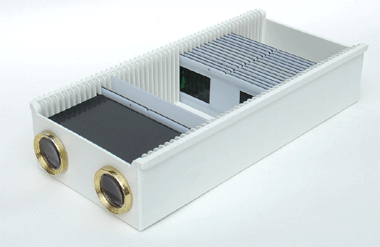 Combo Viewer
Slide storage and hand viewing all in one compact lightweight package! Get the slide storage benefits of 101 ST storage trays (see projector page) and enjoy the glass optics of our popular Channel Viewers (see low-cost viewer page)! Store or travel with your stereo views. Just pop the lid off, insert the steal the light diffuser, and you are ready to view your images.
*Sturdy, nestable and stackable.
*off-white opaque plastic PVC, rigid construction
*9-3/4"long x 4-5/7"wide x 2-1/8" high (with lid on)
*Numbered divider system, 1-50 labeled on both sides.
*Accommodates even the thickest (EMDE glass jacket) stereo mounts.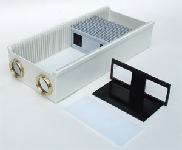 $63.00ea for 1, + s & h
$61.50 ea for 2-3, + s & h
$59.75ea for 4-up, + s & h
Contact us with questions. QnA@make3Dimages.com
---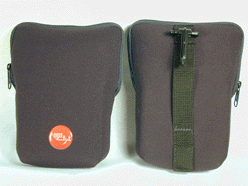 Realist Zip-Cozy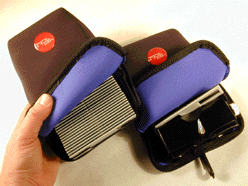 for viewer and/or stereo mount storage
Made from neoprene material used for beverage cozys and water sports apparel.

From the outside, this padded zip cozy bag mimics the look of a Realist Red Button viewer. The red button placement corresponds with that of the actual viewer, so you can unzip the Zip-Cozy and use the viewer without removing it from the bag. The viewer is held safe and snug in this heavy duty padded Zip-Cozy , and zips back far enough so you can change slides without removing your viewer.

Protect your favorite viewer(s) and slides when out and about, or when storing them. Keep your viewer free of dirt and oil from human hands when passing it around. Buffer the viewer in the event of a drop or a knock. The underside has a rung as well as a large safety clip so you can strap it on to you belt, or attach your key chain to it, or attach it to whatever you want.

The COZY is great for.............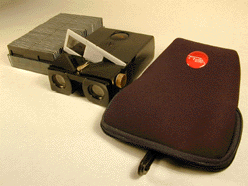 1- $29.00 plus s&h.
2-3 $27.50 each plus s&h.
4-5 $26.75 each plus s&h.
Contact us with questions. QnA@make3Dimages.com
---
---
3D Concepts
P.O. Box 715
Carlisle, MA 01741
United States of America
Phone: +1 (978) 371-5557
E-Mail: QnA@make3Dimages.com
We now accept the following Credit Cards for payment:

American Express
VISA
MasterCard
---
---
Last modified on October 23, 2006
Prices and availability subject to change without notice.
---

Please visit our web host Stereoscopy.com