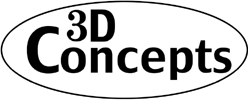 3D Projectors and Accessories
---
If you are projecting your images, first make sure they are properly mounted!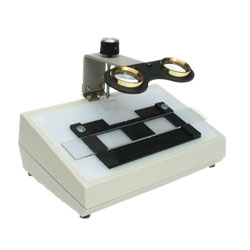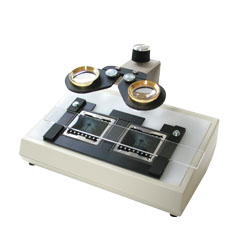 Stereo Active-Alignment Magnifier (S.A.M.)
Alignment templates are useful for placement of film chips, but do not offer magnification or stereo viewing. Save time and frustration with the SAM-Stereo Active Mounting system. SAM allows you to use the most powerful stereoscopic alignment tool, your own two eyes! Make precise, minute, vertical, horizontal and rotational adjustments to your brightly- underlit stereo images. Witness the effect on the stereo window and image within, through x4.5 magnified-focusing 25mm/f60 achromat lenses. SAMs lenses are cantilevered, giving your hands ample access to manipulate film chips. Interchangeable jigs for 35mm format RBT, EMDE, Spicer, Albion, Cardboard, Wess, GEPE, or Bonum formats. BASIC SAM comes with one jig of your choice, AC/DC converter, twin-halogen illumination, onboard on-off switch. $250.00 + S&H. SAM ADD-ON OPTIONS: substitute 60-72mm adjustable interocular lenses $48.00 / Ultra-bright fluorescent light panel $85.00 / Additional standard jigs $45.00

Contact us with questions. QnA@make3Dimages.com



---
RBT 3-D Projector 101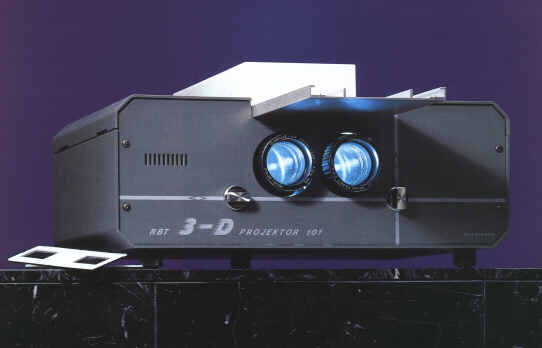 RBT 101 Auto-Focus Auto-Advance Projector The 101 offers automatic focus and advance for 41x101mm RBT stereo mounts with image size to 23x33mm. An auto-timer function permits cycling of images forward or backward. Filament position control for even screen illumination, image fader ramp up/down control, compact size, infrared remote control, condenser functions for cool temperature at emulsion plane. Fixed or zoom lens options, programmable dissolve options. RBT 101 is made to order. Delivery time is two to six months from receipt of deposit. From $2950.00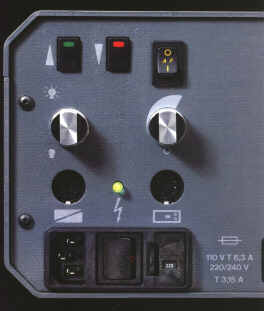 Control buttons/knobs, clockwise from top left: forward, backward, on/off, self-timer, remote-control jack, projector-on LED, tape dissolve jack, lamp-brightness adjustment.
Contact us with questions. QnA@make3Dimages.com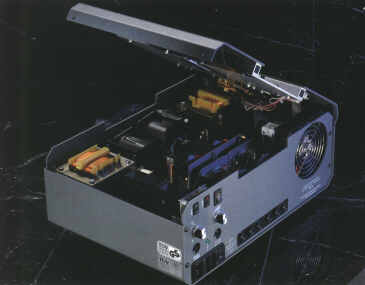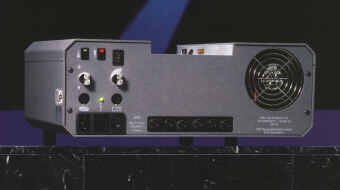 ---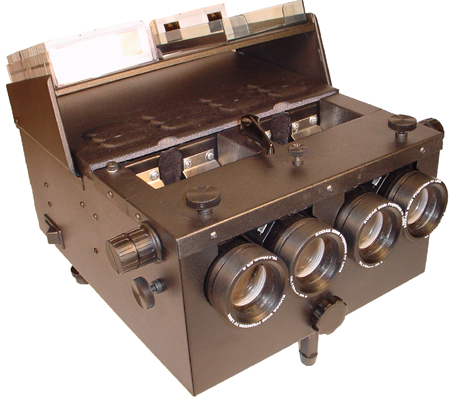 Brackett Dissolver XB
Dissolver XB (Xtra Bright) 3D stereo projector. Two stereo projectors with dissolver control, in one package that fits underneath an airplane seat. Refined from four previous generations of Dissolvers. The Dissolver XB utlilizes the same illumination system (82volt) EXW lamps used in Kodak Ektagraphic projectors with new "bright lamp" modules, making this the brightest Dissolver ever made. This will produce a 113% increase in brightness over the previous ELH illumination based Fader and Dissolver systems.

A new "optic cage" design, contains condenser lenses, hot mirrors in place of older heat absorbers, and polarizers. This design utilizes the entire rectangular condenser lens surface to eliminate corner vignetting with the widest aperture RBT or equivalent 33mm wide stereomounts.

Boroflote hot-mirrors reflect harmful infrared radiation, allowing only visible light frequencies to pass to the emulsion. Production measurements indicate only 5% visible light loss, compared to more than 33% with traditional heat absorbers. Ample fan cooling provides a cool temperature range at the film plane.

Refinements to the focus system provide the smoothest, most precise adjustment, by direct gear drive to the lens rack, through concentric shafts. Dissolver XB slide registration has been refined and optimized for precision plastic, metal or cardboard stereomounts. Lower cost non-precision cardboard heat-seal and slip-in mounts can also be used. All types of mounts are accurately held against the carrier plate for a common reference plane, providing higher accuracy and repeatability, from slide to slide.

Two 4in x 6in angled slide tray holders on the top of the Dissolver are sized for commonly found 4in x 5in plastic picture frames, optimum for holding 41 x 101 format stereomounts. Optics: Four matched, turned-down (to fit interlens mount distance) modified Kodak f3.5 / 70-120 zooms. Kodak 102mm , or 125mm / F2.8 fixed lenses can be used unmodified, and can be purchased unmatched, separately, as an option. Size and weight with lenses: 13"x12"x7"/ 23lbs.

DISSOLVER XB: $ 1950.00 plus shipping and handling, includes four Kodak 70-120mm zoom. Barrels machined and turned-down to fit Dissolver lens housing. In stock for immediate delivery.

Contact us with questions. QnA@make3Dimages.com
---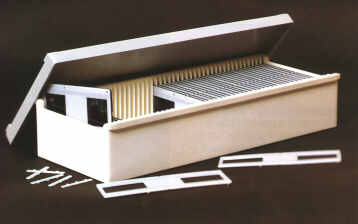 RBT Slide tray
RBT 101ST slide trays, for sorting, transporting or storing stereo slides. A variety of small handviewers fit nicely in the 101ST trays with 25 stereo slides, making this a nice, portable, presentation package.
*snap on top lid with stacking corners.
*capacity: 50 stereomounts
*Grey opaque plastic PVC, rigid construction
*9-3/4"long x 4-5/7"wide x 2-1/8" high (with lid on)
*Numbered divider system, 1-50 labeled on both sides.
*Smooth bottom interior for easy cleaning, avoids collecting of dust and dirt.
*Dividers spaced for ease of slide placement and removal.
*Accomodates even the thickest (EMDE glass jacket) stereomounts.
$26.00ea for 1, plus S & H
$24.50ea for 2-4, plus S & H
$23.00ea for 5-10, plus S & H
Contact us with questions. QnA@make3Dimages.com
---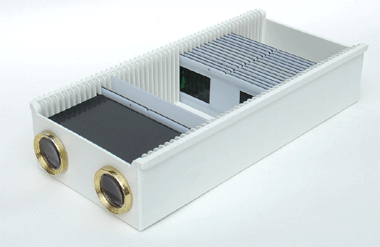 Combo Viewer
Slide storage and hand viewing all in one compact lightweight package! Get the slide storage benefits of 101 ST storage trays (see projector page) and enjoy the glass optics of our popular Channel Viewers (see low-cost viewer page)! Store or travel with your stereo views. Just pop the lid off, insert the steal the light diffuser, and you are ready to view your images.
*Sturdy, nestable and stackable.
*off-white opaque plastic PVC, rigid construction
*9-3/4"long x 4-5/7"wide x 2-1/8" high (with lid on)
*Numbered divider system, 1-50 labeled on both sides.
*Accommodates even the thickest (EMDE glass jacket) stereo mounts.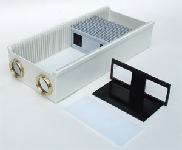 $63.00ea for 1, plus S & H
$61.50 ea for 2-3, plus S & H
$59.75ea for 4-up, plus S & H
Contact us with questions. QnA@make3Dimages.com
---
50mm x 50mm Slide Format Accessories for Carousel and Ektagraphic Projectors:

Internal Polarizers: Designed for Ektagraphic projectors. Either style: $45.00 per pair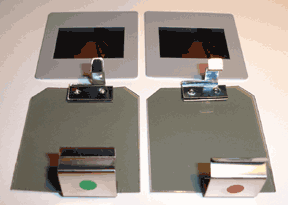 *Modular internal fit for projectors with pop-out light modules, install or remove in seconds.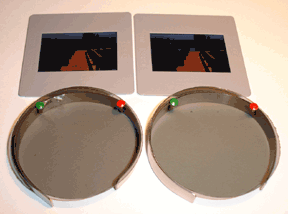 *Circular rear lens barrel fit.
Keystone Eliminator: for preventing on-screen image distortion in over/under stereo projection setups, especially useful at distances of 15ft or under. When the KE is placed in the top Ektagraphic projector's slide chamber, the slide drops to a slightly altered position which helps to minimize or eliminate on screen image distortion. $45.00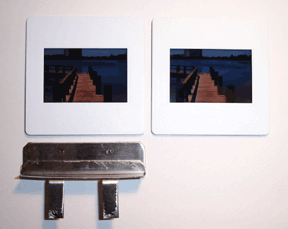 Contact us with questions. QnA@make3Dimages.com
---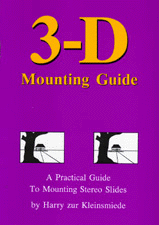 3D Mounting Guide: A Practical Guide to Mounting Stereo Slides
by Harry zur Kleinsmiede
This easy to understand guide illustrates the important aspects of proper mounting. Precise mounting allows for delightful and dramatic hand or projector viewing of 3D images. Alignment issues: horizontal, vertical and rotational adjustments are clearly explained in this illustrated 23 page guide. #MG...$10.95 plus $2.00 s&h.


---
---
3D Concepts
P.O. Box 715
Carlisle, MA 01741
United States of America
Phone: +1 (978) 371-5557
E-Mail: QnA@make3Dimages.com
We now accept the following Credit Cards for payment:

American Express
VISA
MasterCard
---
---
Last modified on October 23, 2006

Prices and availability subject to change without notice.

---



Please visit our web host Stereoscopy.com