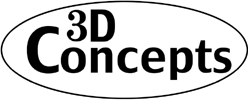 3D Digital Cameras
---
The 3D Advantage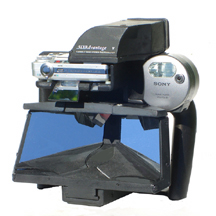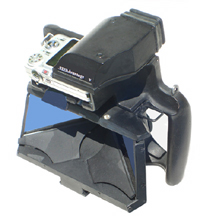 The 3D Advantage is a single Casio EX-Z750 camera coupled with a variable base tridelta beamsplitter. It eliminates all synchronization problems by having only one shutter. The 3D Advantage allows you to shoot action pictures or movies, using any of the many features and options on the camera, without synchronization worries.

The 30 best shot scene modes available on the Casio Z750 allow you to create stereo images in color, sepia or black and white, or choose from any of the numerous manual settings.

A large achromatic viewer is situated over half of the LCD screen. This allows prescreening of the scene at hand, even on very sunny days.

Optional "stereo card" tabs can be inserted into the underside of the viewer to create a square frame in the viewer for framing shots that will be printed as stereo cards.

The variable base knob at the rear on the 3D Advantage allows easy changing of the stereo base from 1.5 inches to 3.25 inches with the turn of the dial.

Contact us with questions. QnA@make3Dimages.com

---
SONY H5 7.2 megapixel extended lens range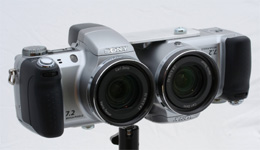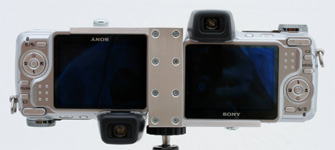 Zoom 36-432mm
Variable Stereobase adjustable frame from 67mm - 137mm
Hyperstereo options available on request
From $1500.00 + s & h

Contact us with questions. QnA@make3Dimages.com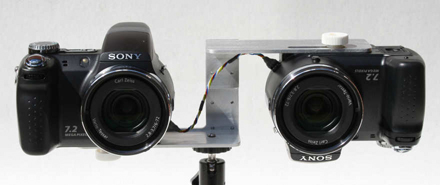 ---
P200 SONY P200/ 7.2 megapixel
Sleek, lightweight and portable coat or vest-pocket portable stereo digital with 45-77mm adjustable stereo base!



| | | |
| --- | --- | --- |
| Automatic focus and zoom operation by slave/master tether circuit. Quick-change tether mini plug, for easy uncoupling of cameras. | | Rigid horizontal lightweight aluminum frame with quick precision adjustable stereo base. Stereo base selection gauge (in mm) is mounted on the frame below each camera. |
Additional Specifications:
Manual shutter control: 1/1000 th-30 sec
Aperture control
Manual focus control selectable for 0.5m, 1.0m, 3.0m, 7.0m , infinity.
3X optical zoom: Equivalent focal length range of 38 -114mm
All P200 setups include charger and batteries.
No additional LANC controller, or control appendage required.
PRICING
Made to order only, 60 days lead time from receipt of a deposit. Base price, ready to use: $1975.00 plus s & h., includes choice of horizontal or vertical frame. (Alternate frame available as an option, see below)
| | | |
| --- | --- | --- |
| Vertical setup has 60mm fixed stereo base frame | | Horizontal setup with 47-77 mm adjustable stereo base frame, includes stereo base scale in millimeters, to accurately set inter-lens distances. |
OPTIONS:
| | |
| --- | --- |
| Slave flash for the P200 digital setup. For balanced flash in low light conditions. $82.00 s & h | Center mounted flash slave bracket, for use with any flash. Includes hot shot mount to P200 bracket $28.00 s & h |